UK soldier killed in Afghanistan named as L/Cpl Duane Groom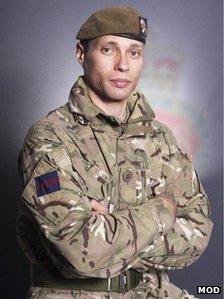 A British Army soldier who died in Afghanistan on Friday has been named as L/Cpl Duane Groom of 1st Battalion Grenadier Guards.
L/Cpl Groom died when his vehicle struck an improvised bomb in the Nahr-e Saraj district of Helmand province.
The 32-year old, who was born in Fiji, had been deployed since April.
The Ministry of Defence described him as "a superb soldier" who was "fit, conscientious and extremely hard-working".
L/Cpl Groom joined the British Army in 2007 and had deployed to Afghanistan for his second tour of duty on 7 April 2012.
After completing his training and taking part in public and ceremonial tasks at the Royal Palaces, he joined 1st Battalion Grenadier Guards and participated in a training exercise in Kenya.
He deployed to Afghanistan for the first time in September 2009 with The Queen's Company.
During his latest tour, he provided force protection for British military advisors to the Afghan National Army.
It was in this role while protecting his Afghan and British colleagues as they extracted from a successful operation that he was killed.
Lt Col James Bowder, commanding officer of the 1st Battalion Grenadier Guards, said: "L/Cpl Groom was an outstanding soldier in every respect.
"Tough, keen, and unflappable, he was utterly committed to his fellows and the cause.
"We are all tremendously proud of what he achieved during his time in the regiment and particularly out here in Afghanistan where he contributed so much.
"His many friends and the broader battlegroup will never forget this most talented of men."
Lt Col James Bowder added: "Moreover, we are determined to finish the mission that he so bravely helped to start. Our thoughts and prayers are with his family and friends outside the Regiment at this most difficult of times."
The MoD said the L/Cpl Groom's death was not connected with a Taliban attack on Nato's Camp Bastion base in southern Afghanistan on Friday, in which two US marines were killed.
Prince Harry was at the base at the time of the attack.
Meanwhile, it has emerged that two UK soldiers killed at a checkpoint on Saturday were shot by a man wearing an Afghan police uniform, who lured them to his side with a fake injury before firing on them.
Another four soldiers with the Nato-led force in Afghanistan have been killed in a separate attack on Sunday - believed to have been carried out by Afghan police officers, according to Nato. These soldiers were not British.
The number of British military personnel killed since operations began in Afghanistan in 2001 is 430.
Related Internet Links
The BBC is not responsible for the content of external sites.