Strauss-Kahn rape case dropped by French prosecutors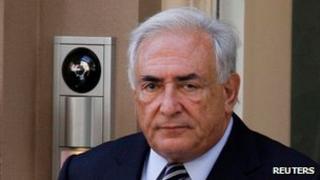 French prosecutors say they are dropping an investigation into former IMF chief Dominique Strauss-Kahn over a "gang rape" alleged to have taken place in Washington.
The woman who made the complaint has retracted her evidence, they added.
Mr Strauss-Kahn, 63, is still under investigation with three other men over their alleged roles in a prostitution ring. He denies the allegations.
A charge that he attempted to rape a US hotel maid was dropped last year.
But the case put an end to Mr Strauss-Kahn's career at the International Monetary Fund and dashed his hopes of running as Socialist candidate for the French presidency.
The alleged victim in that case, Nafissatou Diallo, is now pursuing Mr Strauss-Kahn in the US in a civil lawsuit alleging sexual assault.
Earlier this year Mr Strauss-Kahn also separated from his wife of some 21 years, Anne Sinclair.
'Lynching campaign'
In March, prosecutors in the northern French city of Lille placed him under formal investigation in connection with an alleged prostitution ring in what has become known as the Carlton affair, after the Lille hotel in which several orgies are alleged to have taken place.
Mr Strauss-Kahn's lawyers have said their client is innocent and that he "never had the least inkling" that the women he met could have been prostitutes.
Consorting with prostitutes is not against the law in France, and Mr Strauss-Kahn has acknowledged that he was at some of the parties with the women.
The woman who had made the allegations in the Washington DC case now says that the sex acts between herself and Mr Strauss-Kahn were consensual, according to prosecutors.
Mr Strauss Kahn's lawyers said they were confident he would be vindicated by outcomes of the remaining investigations. They have previously said Mr Strauss-Kahn is the victim of a "lynching campaign".
A court is due to rule on 28 November on a request to have the ongoing inquiry against Mr Strauss-Kahn dropped.
Shortly after Mr Strauss-Kahn was arrested over the incident in New York, French author Tristane Banon also brought a case against Mr Strauss-Kahn relating to a sexual assault alleged to have taken place in 2002.
Magistrates concluded that while there was prima facie evidence of a sexual assault, the incident had taken place too long ago for a prosecution to go ahead.