France UMP vote: Francois Fillon demands recount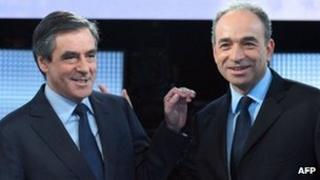 The defeated candidate in the bitter contest to lead France's conservative opposition has demanded a recount.
Former Prime Minister Francois Fillon said votes from three overseas French territories, omitted from the original count, would change the result.
Mr Fillon, the campaign favourite, lost Sunday's UMP party leadership vote to Jean-Francois Cope by just 98 votes.
The election descended into chaos and rancour on Sunday night when both men had claimed victory.
The announcement of the final result was delayed for more than 24 hours amid mutual accusations of ballot-stuffing.
Now, Mr Fillon says, on the basis of the extra votes from the overseas territories, he would win the contest by 26 votes.
Mr Fillon, who stressed he would not challenge the results in the courts, also asked for Alain Juppe, the former foreign minister, to head the party as interim leader until its problems were resolved.
"I do not want our [party] to tear itself apart under the weight of suspicions that are now hanging over this vote," he said, insisting he was "simply demanding the truth".
The official result, announced late on Monday, gave Mr Cope, an ally of ex-President Nicolas Sarkozy, 50.03% of the vote, while Mr Fillon polled 49.97%, losing by just 98 votes.
Cope unmoved
The results produced by the Fillon camp on Wednesday cover the territories of New Caledonia, Mayotte, and Wallis and Futuna.
If the 1,300 votes from the three overseas territories were included, Mr Fillon would be the real winner, his supporters said.
Mr Juppe said he "needed to think" about Mr Fillon's request but sources close to Mr Fillon said he had already accepted the suggestion, AFP news agency reports.
Mr Cope told journalists he was opposed to a recount, and repeated his appeal for Mr Fillon to help reunite the party. "There were results, we must now rally and work together," he said.
Although the election committee cannot reverse the decision, candidates have access to an appeal process.
The BBC's Christian Fraser in Paris says that even before the controversial result was announced, a war of words had ensued between the two factions, raising real fears that the UMP could split.
Mr Cope's polarising rhetoric on Islam and immigration has alienated some in the party and Mr Fillon's more moderate supporters are now threatening to leave the party altogether, he adds.
On the left, a senior Socialist called the crisis a "tragicomedy", the news agency AFP reported, while the leader of the far-right National Front, Marine Le Pen, mocked the vote as "pathetic".
"The UMP is definitely no longer a credible opposition to the Socialists, it is far too weakened and may be already dead," she said.