DR Congo: M23 rebels set conditions for Goma pullout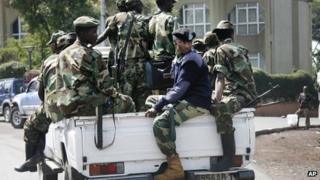 Rebel forces have set out conditions for their withdrawal from the eastern Democratic Republic of Congo city of Goma, which they captured last week.
Analysts say the demands, including the release of political prisoners, seem impossible for the government to meet.
Earlier Uganda's defence chief said the M23 rebels' commander had agreed to leave as ordered by regional leaders.
The Red Cross in DR Congo told the BBC 62 bodies had been found in Goma since the rebels seized the city.
UN officials said prisoners in Goma were at large and threatening people - and there were robberies and abductions at night.
There are reports of new fighting in the area, with a rival militia said to have attacked villages over the border in Rwanda.
Both Uganda and Rwanda strongly deny UN accusations that they are backing the M23.
Some 500,000 people have fled their homes during seven months of fighting.
'Farce'
M23 military commander Sultani Makenga on Monday flew to Uganda for talks, after which Uganda's chief of defence forces Aronda Nyakayirima said Mr Makenga had agreed to withdraw from Goma by Tuesday afternoon - a day after the deadline set by regional leaders.
At a news conference in Goma, the group's political leader Jean-Marie Runiga said the rebels wanted negotiations with Congolese President Joseph Kabila.
But he said they would only withdraw from the city if all remaining Congolese government troops in the rebel-held region were disarmed.
His demands also included some pan-Congolese conditions, including the dissolution of the electoral commission and freedom of movement for opposition leader Etienne Tshisekedi.
Mr Tshisekedi, who lost last year's presidential election to Mr Kabila, has not been arrested - though after the election his house in the capital, Kinshasa, was put under heavy guard.
When the rebels mutinied from the army in April they said it was because a 2009 deal to end a previous uprising had not been fulfilled, and they were not given army posts promised.
"If Kabila agrees to our demands then we'll go quickly," Reuters news agency quoted Mr Runiga as saying.
The BBC's Mark Doyle says meeting these demands would mean political suicide for President Kabila, so the rebels will probably stay in control of Goma, the largest city in the east.
Kinshasa has already dismissed them as a "farce".
"There's been a document adopted by the region. If each day they're going to come back with new demands it becomes ridiculous. We're no longer in the realms of seriousness," government spokesman Lambert Mende told Reuters.
The BBC's Catherine Byaruhanga in the Ugandan capital, Kampala, says following the summit on Saturday, an official told her the plan was to deploy a regional, neutral force to Goma airport to secure the city for the DR Congo government.
'Heavy shelling'
Both the M23 and Rwanda's leaders are mostly ethnic Tutsis and on Tuesday, Rwanda accused a rival Hutu rebel group of attacking its territory not far from the border town of Goma.
Rwandan army spokesman Joseph Nzabamwita told AFP news agency that about 100 Democratic Forces for the Liberation of Rwanda (FDLR) fighters had attacked the villages of Cyanzarwe and Bugesh in Rwanda.
"As we are talking some are fleeing back to DRC, others deep inside Rwanda," he was quoted as saying.
Simone Schlindwein, a reporter for the German newspaper TAZ in Goma, told the BBC's Newsday programme the situation in the city was extremely confusing and it was abuzz with rumours.
There are reports of heavy shelling and gunfire from Kibumba about 30km (19 miles) north of Goma - the former frontline where the rebels have reportedly agreed to withdraw to, she says.
The Rwandans and M23 have told her that the FDLR have recently infiltrated the area around Kibumba before launching the attack on Rwandan territory on Monday night.
The FDLR has denied attacking Rwanda, Ms Schlindwein later tweeted.
Rwanda has sought to justify its backing for previous rebel groups in eastern DR Congo by saying they are the only way of preventing Hutu militias from launching attacks.
Rwanda's President Paul Kagame led a rebel group which put a stop to the genocide of ethnic Tutsis and moderate Hutus in 1994, when many of those who carried out the killing fled into what is now DR Congo.
Following the rebel capture of Goma, the UN has warned of a growing humanitarian crisis in the mineral-rich region.
UN officials said prisoners in Goma were at large and threatening people - and while it seemed relatively calm during the day, there were robberies and abductions at night.
Aid officials said the fighting has made camps for people displaced by earlier conflicts inaccessible, with food and medicines running short.
Some five million people died during the 1997-2003 DR Congo conflict, which drew in several regional countries.