What if? About the competition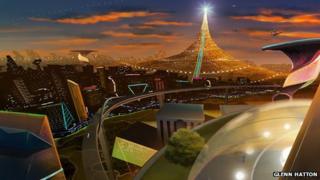 This year the BBC is looking into the future, to find out what it holds for health, education, transport and even love. The season is called "What If?" and we asked you to send us your visions of the future. Hundreds of you did, the competition is now closed and we announced the winners on March 25th.
An invitation to creative freedom
We cannot change the past, but we can visualise the world of the future - the world that we want or the world we want to avoid.
We want you to send us your visual representation of the future.
There are two categories: still images and moving images (up to 50 seconds). So your entry can be a single photograph or drawing, an animation or video, or even a picture or video of a model or sculpture you've made. But it must be your own work.
We are inviting you to explore any subject that you want: health, technology, communications, sport, food, space, society, transport, architecture, relationships, geopolitics, the environment. Think about things that need inventing, avoiding or improving.
Be universal
We will shortlist entries that are original, creative, emotionally powerful, visionary and have great visual impact.
We want your work to be appreciated by everyone, so please do not include words, captions or dialogue. Any music you use must be your own.
You'll need to upload your entry to a picture or video-sharing website where we can access it, and remember to upload in the highest resolution you can to make the best of your work. You have to be over 18 to enter.
Two winners will be chosen, one from each category, by a panel of leading creatives and artists from five continents. The five international judges will be supplied with a shortlist of entries chosen by our production team.
Each winner will receive a laptop up to the value of £2,500.
To get things going we asked six prominent artists from around the world to create original pieces.
We also have tips on how to make an animation.
How to enter
Upload your entry to a picture or video-sharing website. Then send an email to whatif@bbc.co.uk with the following information:
•Full name
•Date of birth
•Nationality
•Contact details (physical address, landline and mobile telephone numbers)
•The URL link to the file-sharing site where you have uploaded your piece
Please bear in mind that if you fail to give us all the information we have requested, or the URL you send us is broken, your entry will be considered invalid.
So before sending the email please check that you've included all the details and that the URL link is working properly.
Among the important things to remember:
•Your piece must be your own creation.
•The work must be without words, captions or dialogue as we want the entire world to understand it, and any music must be your own composition and performance.
•Your entry must not be defamatory or obscene or contain any element of advertisement material for commercial products or services.
•You have to be over 18 to enter.
•The competition closes at 10:00 GMT on Friday, 8 March 2013.
The two winners will each win a laptop worth up to £2,500 but anything you send us could be featured in our competition coverage on TV, online and radio.
Please check our full terms and conditions.
We hope that you enjoy imagining the future and creating your vision and wish you the very best of luck!