Pope Benedict resignation: Your stories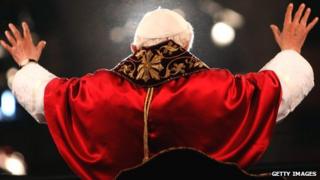 Pope Benedict XVI will stand down on 28 February after nearly eight years as the head of the Catholic Church.
The first papal resignation in nearly 600 years has surprised and shocked many around the world.
BBC News website readers have given their reaction to the news and reveal their thoughts on the future of the papacy.
Kwame Forson, from Teteman-Buem, Ghana
The news of the Pope's resignation is indeed shocking and mind-boggling.
Nonetheless, it should be welcomed in a spirit of openness and with a deep sense of appreciation for his leadership.
In an age in which some politicians are seeking new terms that are not even backed by constitutional provisions, this resignation calls upon such individuals to look beyond their egos and do the right thing.
The Pope examined himself and finally came to the unalterable truth that it is not proper to impose himself on the Church, given his ailing physical and mental capacities.
He deserves our continued admiration and prayers.
I'm a Ghanaian and would love to see an African Pope but nationalistic interest should be put aside in this instance.
It's most important that the best person for the job is selected, irrespective of where they're from.
Stefano Angeli, from Cesena, Italy
Benedict XVI has been a good Pope, maybe better than his much more celebrated predecessor, but he was in conflict with the Vatican establishment for a long time.
His efforts to clean up some of the mess inside the Catholic Church collided with the interests of many inside. That could be one of the reasons behind his resignation.
I think we need to show some respect for Pope Gregory and his decision, he had a good reason and maybe there was something political behind it.
I wouldn't mind seeing Cardinal Francis Arinze from Nigeria taking the role. I think it's time to look for a replacement from Africa; they would act as a shield to Christians there.
The world is changing at a rapid pace and the Catholic Church has to keep up.
Celia B Elumba, from Quezon City, Philippines
We put our trust in the wisdom of Pope Benedict - he has given of himself extraordinarily well and even as he resigns, he is serving in faithfulness and we love him.
I have a firm belief in the work of the last two popes and think Pope Benedict was very brave to make the courageous decision to go back to more conservative roots.
He saw that we needed to be faithful and also regained the sense of community.
It's important that the Christian faith is strengthened in Europe and for that reason perhaps another European pope might be a benefit.
I hope the next pope will address the needs of today and will continue the progress that has taken place under Pope John Paul II and Pope Benedict XVI.
They should aim to preserve the dignity of life and death while the beauty of the family should be maintained. They should restore the essence of what it means to be a practising Christian.
Andreia Barboza Stelet, from Campinas, Brazil
I am very shocked by his decision. I have profound respect and admiration for him examining his conscience to make up his mind about his capacity of dealing with what is required from him.
I find Pope Benedict to be more conservative while Pope John Paul II was more charismatic and interested in promoting peace.
The current situation in the Middle East and Africa is of concern and I feel Pope Benedict wasn't able to give the troubles the attention they deserved.
I'd like to see a younger pope. They'd be in better health and would have more energy to travel. They should make an effort to address global peace.
Perhaps a pope from Africa or Latin America would be a good thing but they should aim to send a message of hope.
To see a leader of the Church promoting peace would set a great example.