Papal succession: Your stories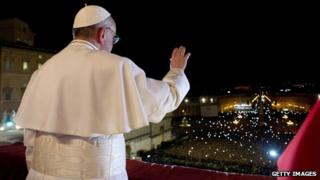 Jorge Mario Bergoglio has become the first Latin American to become head of the Roman Catholic Church.
The Argentine's appointment was greeted with both delight and surprise across the world.
BBC News website readers have given their reaction to the news and reveal their thoughts on the challenges facing Pope Francis.
Guillermo Lopez Mirau, from Salta, Argentina
I'm based in the north of Argentina, which as a former colony of Spain is a very traditional place. Many residents went to the cathedral last night for a special mass. Everyone is talking about the election.
Pope Francis is a very humble man, the son of a train worker. He had a public school education and was always very modest. He is known here for his strength and humility.
In the past he wrote and posted strong documents against the Argentine government. He is a keen supporter of the poor and will encourage the Catholic Church to move away from power and money.
He is not quiet on public issues. He believes the Catholic Church has much more than just a spiritual role to play. He always speaks about poverty and life beyond the struggles of power. His last strong public position was against gay marriage.
It would be nice for us if he spoke about the Malvinas [Falkland Islands], but I don't expect him to. As an Argentine, he supports Argentina's position but I think he'll be above making a geopolitical standpoint.
He likes music and football, he likes to visit the slums and he is a very human guy.
This is the first Jesuit, the first Latin American and of course the first Argentine. He is a man of firsts.
Anna Rozanska, from Poznan, Poland
As a Roman Catholic, I feel elated. The first impression the Pope made was very positive.
His words "good evening" are considered an informal greeting here in Poland, and his speech conveyed a lot of warmth and benevolence.
The name of Francis that the new Pope has chosen is very promising. He may indeed be the one to rebuild the Catholic Church from ruins, also by respecting environmental issues and those of poverty.
I do not mind that he is believed to be conservative on sexual matters, and I am happy to read he is strong on social justice. This seems to be a priority at the time when the global economy is in crisis.
I know however that he will not have an easy pontificate. He will have to address the scandals at the Vatican and the sins within the Catholic Church.
Dr Tina Laczko-Schroeder, from Norwich, UK
As a Catholic I found myself praying for Pope Francis on waking, with a sense of hope.
I'm a Consultant Neuropsychiatrist for older adults, and people of all ages with dementia and brain disease. They are a group without a voice in our society.
Pope Francis spoke out often against their marginalisation, as well as street children. I really hope the voiceless will gain an advocate.
The Jesuits are known to speak out fearlessly and have a history of being incarcerated by the Catholic Church for their views. It's a real turnaround to have one of them on the Papal throne.
As a Jesuit, he is concerned with social justice, and has lived humbly, in poverty among his flock. This bodes well for a world where poverty and injustice is too often the norm.
Being a Jesuit, he also comes from a long tradition of monks who stand slightly outside the pomp and ceremony of the church, an intellectual group that have at times challenged the workings of the Catholic Church, a healthy opposition one might say.
He is a Pope for positive change amid troubled global times. He will do well.
George Jose, from Bangalore, India
That God has not forsaken his people is clearly manifested in the election of Pope Francis, a Jesuit from Latin America, the continent of Liberation Theology.
Other than the oft-repeated problems in the Catholic Church about the sex scandals and corruption in Vatican Curia, what really matters is that reforms heralded by Vatican II need immediate implementation and unbridled capitalism and consumerism need to be tempered with a heavy dose of social justice which ought to be the mission of the Church.
Now that we have a Pope who, as a Jesuit, had accepted an 'option for the poor and the marginalised', I am thrilled that social justice powered by the Catholic Church would be a revolution worth living for.
Even if Pope Francis manages to inspire 10% of the bishops and archbishops to follow his lifestyle, Christ and his teachings will become credible to the world today.
A Catholic Church that stands up for justice, both socio-economic and political, will be the Church we will be hoping for under the Jesuit Pope.
More of your comments
Jean Paul Datuin, Manila, Philippines
These are critical times for the new Pope. With arising political tensions around the world, I only expect him to be tough. Though the new Pope is 76, I believe that is the sign of experience. I hope he will be guided by wisdom as he marches through these tough times.
Zephaniah, Kitale, Kenya
This is extremely fascinating especially to the people outside Europe. We look forward to see how Pope Francis will handle the challenges facing the Catholic Church globally.
Edward Topacho, Kampala, Uganda
I didn't know him before now, but from his profile I highly believe that he is the ideal person to lead the Catholic Church.
Natalia, Buenos Aires, Argentina
I'm only a teenager, but I can tell you that I'm really proud of Bergoglio. I'm still in shock, I can't believe that an Argentine cardinal is Pope.
Shane King, Sydney, Australia
I found his presence to be serene, mild, unassuming and simple. This timeless institution always confounds the media and they did it again. God bless Pope Francis who will undoubtedly bring a humble peace and serenity to the Catholic Church in these challenging times.