Pakistan faces 'bloodiest' election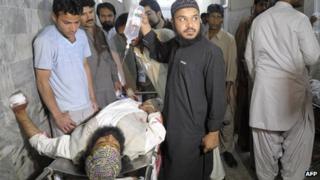 Pakistan's elections are being called the bloodiest ever. But that's not the only reason why they stand apart.
There's another message on the back of black T-shirted elite anti-terrorism police - NO FEAR, in bold white capital letters.
And it's not just well-trained muscled gunmen at campaign rallies who want to say they're not afraid.
Leaders of three political parties, publicly threatened by Pakistani Taliban, or TTP, stood shoulder-to-shoulder and announced this week they would not be cowed by their threats of violence.
Not a day goes by without election attacks and deaths on the front pages of Pakistani newspapers.
Despite that, opinion polls are indicating there could be a record turnout, higher than the 44% in the last elections in 2008.
That's partly because of a surge in young voters. An estimated 31% of the electorate is between the ages of 18 and 29.
"You could say these are the first youth elections," writer and former Pakistani Ambassador Maleeha Lohdi told the BBC. "There's also a new enthusiasm among all voters which is good news for Pakistan."
'Eye-to-eye contact'
As we start our Pakistan election coverage, we've attended election meetings and rallies in the capital Islamabad and in the most populous and relatively peaceful Punjab province.
Party leaders like Nawaz Sharif and Imran Khan make a point of removing bullet-proof glass shields from their speaker podiums to address large crowds now being held back at a safer distance.
"It's better to have eye-to-eye contact," PML-N leader Nawaz Sharif told me before one rally this week in Sarghoda in Punjab.
"We're still going door to door, shop to shop, where we can," said Shafqat Mahmood, a candidate for Imran Khan's PTI party in the city of Lahore.
Campaign organisers admit they've had to cancel rallies planned for volatile cities like Karachi in the south, or in the northwest close to the tribal areas, for security reasons.
Some parties, including the Pakistan People's Party (PPP), are being accused of using the threat of violence as an excuse for lacklustre campaigns and what's expected to be their dismal performance in some areas on polling day - the more usual danger in democracy.
But the danger of violence is all too real. In sensitive areas like Balochistan province, there are reports some election workers don't want to man polling stations because they fear for their lives.
The Pakistan army has announced 70,000 troops will be deployed in four provinces on election day, along with thousands of police and other security forces.
The 11 May election will be not just one of Pakistan's most important elections. It will also mark another decisive showdown between forces determined to shape this country through violence, and those who still believe the ballot box matters in trying to resolve Pakistan's growing crises.
Lyse Doucet's reports from Pakistan will feature on BBC World News and Newsnight next week.