Amnesty says refugees face rising dangers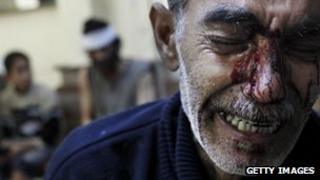 Amnesty International says the world has become an increasingly dangerous place for refugees and migrants.
In its annual report, the group said millions were forced to live on the margins of society and allowed to be the targets of "populist rhetoric".
Amnesty said governments were more interested in protecting their own borders than the rights of migrants.
It also accused the international community of a "spectacular failure" to stop the carnage in Syria.
It said the conflict had now displaced a quarter of the Syrian population, 4.5 million Syrians inside their own country and 1.5 million abroad.
In its report, the group said the only change over the past year had been the number of lives lost or ruined.
"The failure to address conflict situations effectively is creating a global underclass," said Salil Shetty, Amnesty's Secretary General.
"The rights of those fleeing conflict are unprotected. Too many governments are abusing human rights in the name of immigration control - going well beyond legitimate border control measures."
He added: "These measures not only affect people fleeing conflict. Millions of migrants are being driven into abusive situations, including forced labour and sexual abuse, because of anti-immigration policies which means they can be exploited with impunity. Much of this is fuelled by populist rhetoric that targets refugees and migrants for governments' domestic difficulties."
The report singled out the European Union, saying it implemented border control measures "that put the lives of migrants and asylum-seekers at risk and fails to guarantee the safety of those fleeing conflict and persecution".
"Around the world, migrants and asylum-seekers are regularly locked up in detention centres and in worst case scenarios are held in metal crates or even shipping containers," the report said.
Syria is one example where Amnesty says war crimes have been committed.
"For nearly two years, the Syrian military and security forces have launched indiscriminate attacks and detained, tortured and killed people they perceived to support the rebels," said Mr Shetty.
"Armed opposition groups have also carried out summary killings and torture albeit on a much smaller scale."
The UN Security Council's failure to act was defended - particularly by Russia and China - as respecting the sovereignty of the state, he said.
"The idea that neither individual states nor the international community should act decisively to protect civilians when governments and their security forces target their own people - unless there is something in it for them - is unacceptable.
"Inaction in the name of respect for state sovereignty is inexcusable."
The survey of 159 countries and territories highlights what it terms positive findings, however, in the spread of internet access and communications.
"Increasingly, there is very little that governments and corporations can do in hiding behind 'sovereign' boundaries," Mr Shetty said.
Amnesty points to the role social media played in attracting attention to the case of Malala Yousafzai, the Pakistani schoolgirl who was shot in the head by the Taliban after campaigning for girls' education.
But it also expresses concern over the jailing of three bloggers in Vietnam for "conducting propaganda" against the state, and called for wider access to the internet for all.
The report says 101 countries repressed their people's rights to freedom of expression in 2012, up from 91 out of 155 countries recorded in 2011.
In its summary of events in 2012, Amnesty says numerous nations have failed to address the abuse of women.
It refers to rapes by armed groups in countries such as Mali, Sudan and the Democratic Republic of Congo, and says the health of many women and girls around the world is threatened by the lack of access to safe abortions.
However it welcomed prosecutions over alleged human rights violations during past military regimes in Argentina, Guatemala and Uruguay.