Malnutrition hits school performance, warns Save the Children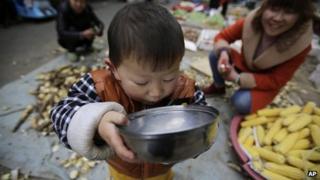 A quarter of the world's children are at risk of underperforming at school because of chronic malnutrition, says UK charity Save the Children.
Missing out on a nutritious diet could severely damage a child's ability to read and write, it said.
The study found that malnourished children suffered irreversible damage; they grew up smaller and weaker, and their brains might not develop fully.
The charity said tackling malnutrition should be a priority for G8 leaders.
They will meet in Northern Ireland next month.
The report - Food for Thought - is based on studies of thousands of children in Ethiopia, India, Peru and Vietnam.
Their study suggests that children aged eight who are stunted due to malnutrition were 19% more likely to make mistakes reading a simple sentence like "the sun is hot" or "I like dogs" than those with a balanced diet.
They could earn as much as 20% less in adulthood, and the global economic impact of malnutrition could be up to $125bn (£83bn), Save the Children said.
Nutrition summit
"Poor nutrition is driving a literacy and numeracy crisis in developing countries, and is also a huge barrier to further progress in tackling child deaths," said Jasmine Whitbread, Save the Children International's Chief Executive.
"A quarter of the world's children are suffering the effects of chronic malnutrition, putting millions of young lives at risk."
The UK government is holding a special nutrition summit in London on 8 June, ahead of the main G8 gathering, which is expected to look at issues such as food security and the need for more African countries to have their own national nutrition plans.
World leaders attending that summit must "face this crisis and tackle the scourge of malnutrition for good", said Ms Whitbread.