What now for Syria's mosaic?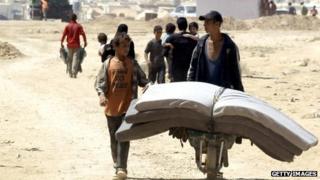 The US Congress is expected to vote on a possible military strike against Syria this week.
Whether or not the US strikes, the lives of millions of Syrians have already been changed in ways they could never have imagined.
Syria's identity was forged across centuries. Many Christian sects, going back to the earliest years of Christianity, call it home - as does a Jewish community, several Islamic sects, many ethnic groups.
Its what's known as Syria's mosaic - a human tableau as intricate as the ancient patterns made of glass and stone this country is famous for.
Now this much-vaunted mosaic is being shattered. A war which has cost so many lives, wiped away entire towns, is also tearing a people apart.
In this audio essay, I reflect on how Syrians are trying to keep their sense of self and country intact.