Are captured soldiers Israel's weak spot?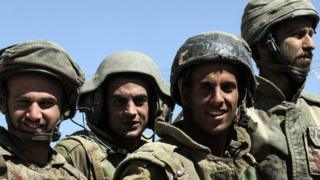 The capture of a soldier hits Israel at its most vulnerable point.
Recent captures have provoked Israel, at first, into dramatic military action - and then, years later, into quiet compromise.
In 2006, the country went through the experience twice - first on the Gaza border, then weeks later on the Lebanese border.
I vividly remember the news of each capture. On 25 June 2006, my colleagues and I headed from Jerusalem towards the Erez crossing into Gaza after hearing of a raid by Palestinian militants. The IDF immediately closed the border.
As we waited at a service station near Erez, I saw a news flash on my computer: IDF says soldier captured in raid.
News of the capture of Corporal Gilad Shalit shook many Israelis - much more so than if he had been killed. A killing marks a sudden but definitive end. A capture marks the start of a desperate, uncertain wait.
A day after Cpl Shalit's capture, my colleagues and I crossed into Gaza and witnessed the first of many Israeli airstrikes on roads and Palestinian government buildings.
The IDF's message to Gaza was clear: give up Gilad Shalit without condition - or face continued bombardment.
But Palestinian militant groups were not about to give up a captured soldier for nothing. The militants announced that they wanted a prisoner exchange. Israel rejected the prospect.
"There will be no negotiations to release prisoners," Prime Minister Ehud Olmert's office stated.
From Israel's perspective, worse was soon to follow.
Missing soldiers
On the morning of 12 July 2006, my colleagues and I were slumped in front of the coffee table in our Gaza office - recovering from days of airstrikes. The TV was on in the corner.
One of my colleagues said with surprise: "A TV channel in Lebanon says Hezbollah's taken two Israeli soldiers." The news was soon confirmed.
Hezbollah, the Shia militia backed by Syria and Iran, had killed two Israeli soldiers and captured two more: Ehud Goldwasser and Eldad Regev. The militia refused to say if the two captives were alive or dead.
Israel proceeded to follow its template from Gaza.
The country went to war against Hezbollah in Beirut and southern Lebanon and demanded the unconditional release of its two captured soldiers - without exchange or bargain.
Hezbollah replied by firing Katyusha rockets into Israel and by holding out for an eventual prisoner exchange. A ceasefire after 34 days did not bring about the return of the missing soldiers.
In both Gaza and Lebanon in 2006, Israel's immediate tactic of bombing its enemies into releasing IDF captives failed.
Both Hamas and Hezbollah gambled on a simple premise: if you hold out long enough, eventually Israel will bargain for the release of its soldiers.
In an unusual way, Hamas and Hezbollah may understand Israel's mindset as well as Israel itself.
Israel conscripts its young men and women into military service - on the understanding that it will never leave a soldier in the hands of the enemy.
In the end, Israel's need to bring back its captured soldiers defeats its initial refusal to give concessions to its enemies.
Prisoner exchanges
On 16 July 2008, Israel released five Lebanese militants and the bodies of around 200 Palestinian and Lebanese militants in exchange for the bodies of Ehud Goldwasser and Eldad Regev.
Then, on 18 October 2011, Israel began the release of 1,027 Palestinian and Israeli-Arab prisoners in exchange for the release of Gilad Shalit - after more than five years in captivity.
The respective prisoner exchanges led to much debate in Israel.
Does the need to bring back missing soldiers actually make the state weaker by encouraging militant groups to attempt further captures?
The capture of Hadar Goldin in Gaza will re-open this debate.
Hamas will be able to present the soldier's capture as a tangible achievement from the current round of fighting in Gaza - a way to ensure the release of Palestinian prisoners in the future.
At the start of this round of fighting in Gaza, Hamas demanded the release of several dozen Palestinian prisoners arrested in July.
Those men were originally freed as part of the exchange with Gilad Shalit. Now, the reported capture of another Israeli soldier may lead to negotiations for their re-release.
History repeats itself in short cycles.