Profile: James Foley, US journalist beheaded by Islamic State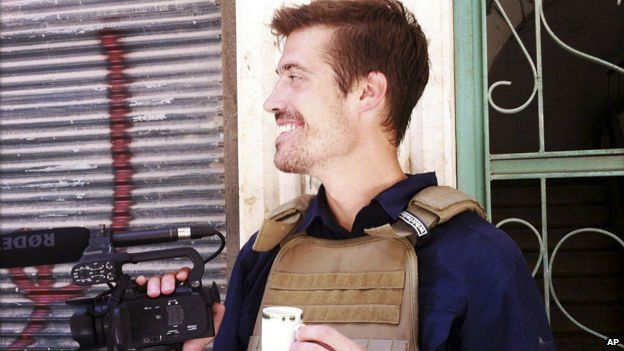 American journalist James Foley, who has been murdered by the Islamic State militant group, has been described as a "brave and tireless journalist".
A video released on Tuesday shows his beheading.
He was abducted in Syria in November 2012, while reporting on the civil war for Agence France-Press (AFP) and US media company GlobalPost.
On his way through northern Syria, in Idlib province, his vehicle was stopped by militants. He was never seen again.
Mr Foley, 40, came from the US city of Rochester in New Hampshire.
He was a teacher in Arizona, Massachusetts and Chicago before switching to journalism in the mid-2000s.
After graduating from the Medill School of Journalism, he began his work in the field.
His curiosity about the reality of places like Iraq, where his brother was serving as an officer in the US air force, led him to embed himself with US troops there.
In 2011, he went to Libya to cover the uprising against Col Muammar Gaddafi, embedding himself with rebel fighters.
"The idea with the Libyan revolution is, it's journalists embedding with rebels, and that's essentially what we did," he recalled.
In April 2011, Mr Foley and three other journalists were ambushed by Gaddafi's forces.
Photojournalist Anton Hammerl was killed, while Mr Foley and the others were detained.
"A soldier's pressing your face into the bed of a truck, bleeding from the scalp - it's the worst kind of shock," Mr Foley said afterwards.
For 18 days, nobody knew whether he was still alive.
His parents, Diane and John Foley, campaigned for his release, holding prayer vigils and working with US and Syrian diplomatic teams to gather information.
After six weeks, Mr Foley was released. But the death of Anton Hammerl, his friend and colleague, had a profound impact on him.
"I'll regret that day for the rest of my life. I'll regret what happened to Anton," he said. "I will constantly analyse that."
His experience of being captured did not deter him.
"It doesn't always repel you. Sometimes... it draws you closer. Feeling like you've survived something - it's a strange sort of force that you are drawn back to," he said.
Following his ordeal, he was eager to cover the situation in Syria, saying he was "drawn to the drama of the conflict and trying to expose untold stories."
He began reporting the violence committed by forces loyal to Syrian President Bashar al-Assad, before he was captured in November 2012.
Max Fisher of the Vox news website has said he will celebrate James Foley's "dedication to truth and understanding".
Penny Sukraj, the widow of journalist Anton Hammerl, who was close friends with Mr Foley, said: "He was passionate about getting out there and telling the stories about the most vulnerable people and the effects of the different conflicts and wars that had ravaged their lives."
"He lived and breathed the conflict journalism that he was involved with and not for any self-glorification purpose at all," she added.
Freelance journalists are particularly at risk in troubled areas, without few guarantees of their safety.
But James Foley had a passion for it nonetheless: "There's extreme violence, but there's a will to find who these people really are. And I think that's what's really inspiring about it."
"Jim gave his life trying to expose the world to the suffering of the Syrian people"
- James Foley's mother, Diane Foley.
"Everybody, everywhere, takes a liking to Jim as soon as they meet him. Men like him for his good humour and tendency to address everyone as "bro" or "homie" or "dude" after the first handshake. Women like him for his broad smile, broad shoulders, and because, well, women just like him."
"James Foley was my middle school teacher in a very poor neighborhood and all I want to say is thank you Mr. Foley you helped shape me into the man I am today. He was also our basketball coach , lead us to the district championship. This man always preached being open and respectful to other cultures. It's unfortunate that his openness lead to this."
"I'll remember James Foley in Antakya. He had some problems with his video camera…'Brother,' he said, 'I can only pay you in whiskey.' His gear was spread out across a small Turkish coffee table. All of it in terrible shape. It had seen a lot of use. I told him he was brave for working with such cranky gear. 'It's all I need,' he said, with a big smile."
- Ben C. Solomon, a journalist with The New York Times.