Young diaspora Somalis rediscovering entrepreneurial roots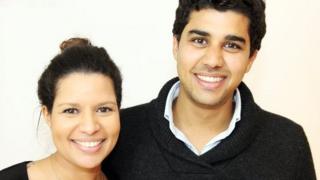 Two siblings are on a quest to revive the entrepreneurial streak once associated with Somali communities abroad.
Asli and Yassin Ciyow want to dispel the image that young diaspora Somalis are often unemployed, involved in gangs, or linked to Islamist militants.
The duo, born to a Somali father and a French mother, are bringing together 32 aspiring young British-Somali entrepreneurs to share ideas at a convention in London on Sunday.
The gathering will build on the "enterprising nature" of Somalis and "showcase a new wave of young Somalis getting the start-up bug", says Asli Ciyow, 27.
She began planning the Fiiri Bandhiga convention almost a year ago and came up with the idea while she was organising a separate charity event to build water wells in Somalia.
"I noticed there were a number of keen young Somalis from the UK and across Europe who were offering their services and skills.
"It was at that moment I suggested to my brother, 'Why don't we actually put a select group of young people, from across the diaspora, and who are already running their businesses, in touch with each other?'"
Her younger brother was happy to help and they now aim to organise the convention once a year.
It is not just about networking and "exchanging skills", Ms Ciyow says.
"It's also about demonstrating to young Somalis the possibilities open to them in the world of start-ups and getting the younger ones to start thinking early about their future."
They intend to reach "many second-generation Somalis" growing up in various Western countries by rotating the convention between cities in the UK, Europe and the US.
'Fortune men'
The UK was a natural choice for the pairs' inaugural event as it is home to the oldest and largest Somali community in Europe, numbering more than 100,000.
Somalis first came to the UK in the early 1900s, recruited as seamen and often known as "fortune men" in Somalia because of their ingenious ways of making a living.
Their successors were quick to set up businesses to meet the needs of the growing refugee populations fleeing the civil conflict that began in 1991.
So can young British Somalis pick up the entrepreneurial spirit historically associated with their culture?
London-based Shukri Hashi, one of the 32 chosen entrepreneurs, thinks so and says her background has been "inspirational" to her becoming a designer of Somali-tinged bespoke wedding dresses.
Her entry into the fashion industry is a far cry from businesses traditionally the economic backbone of Somali diaspora societies - like the internet and telecommunications, the restaurant business and money transfer services.
"I had a hard time explaining it to my family. They were perplexed as to why I didn't stick to traditional graduate professions," says Ms Hashi, who graduated in fashion design five years ago.
"But they are slowly coming round to the idea that you can make a good living out of any profession if you put time and dedication into it."
She says she is looking forward to networking and working with other young people from the British-Somali community - something that has not always been a given because of Somalia's clan system.
Laura Hammond, an expert on the Somali diaspora at the School of Oriental & African Studies (Soas), says this shows how far second-generation Somalis have come.
"Their parents directed their investments and remittances to close relatives but young Somalis today are more likely than ever to cross those clan lines when it comes to doing business.
"They are less concerned with clan identities, relying on their British and Somali identities for the best of both worlds."
'Reversing trends'
So are young Somalis in the UK "turning a corner"?
Awoowe Hamza, a 25-year-old community organiser in London, believes so.
He often discusses challenges faced by young Somalis in the diaspora on his own talk show which airs on a UK-based Somali channel. He also believes second-generation Somalis are "reversing" trends when it comes to low education attainment and unemployment.
"Collecting data on Somalis is always challenging but, from my observations, an increasingly high number of young Somalis graduate as distinguished alumni from Russell Group [of leading] universities and many are becoming role models in their respective fields including setting up their own businesses," he says.
The UK Somali community recently faced a setback when news emerged of British Somali teenage twin sisters reportedly joining Islamic State (IS) in Syria.
But Mr Hamza says he prefers to look at the bigger picture.
"Young Somalis on the whole are well integrated into British society achieving a good balance between their British, Somali and Muslim identities.
"The majority of them are focussed on trying to both develop themselves professionally, as well as supporting their parents and other members of their family who are struggling."
Having visible role models like Olympic gold-winning athlete Mo Farah, acclaimed novelist Nadifa Mohamed and London's young poet laureate Warsan Shire has helped in the process of integration and "settling" the question of identity for young people, says Ms Hammond.
For their part, the Ciyow siblings say they hope that their business convention helps create the "next generation" of role models in the world of business.
"We have spent months picking our entrepreneurs as we wanted only to showcase the best," says Ms Ciyow.
"The feedback has been positive so far and we can't wait for our next stop next year in Minneapolis, the US."