British tourist murders: Thai police defend inquiry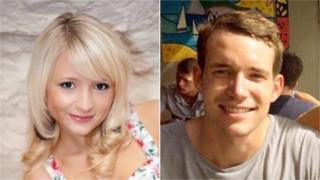 Thailand's chief of police has defended his force's inquiry into the murder of two British tourists on Koh Tao island.
General Somyot Poompanmoung admitted the police had made mistakes but said everyone involved in the case had worked to the best of their ability.
The killing of David Miller, 24, of Jersey, and Hannah Witheridge, 23, of Norfolk, last month has led to scrutiny of the methods of the Thai police.
Police say two Burmese men have admitted to the murders.
The bodies of Ms Witheridge, 23, and Mr Miller, 24, were found on the beach on 15 September with severe head injuries.
Crime scene
BBC South East Asia correspondent Jonathan Head said the Thai police's response had been prompted by a torrent of online criticism of their investigation.
But even from the very start, there was criticism of police statements, he said.
"A senior officer told the BBC the day after the murders that the culprit could not have been Thai because Thais would never commit such a crime. The police then interviewed dozens of Burmese migrant workers.
"There were unfounded suggestions of a romantic entanglement between the two victims as a possible cause of the murders; the crime scene was never sealed; and there was confusion about whose DNA had been tested, and how long the process should take," our correspondent added.
The two men - identified as "Saw" and "Win", both from Myanmar, also known as Burma - now face charges of murder, rape and robbery.
Our correspondent said that when police produced the two suspects last week and got them to re-enact the crime on the beach there was suspicion that they were being scapegoated.
But speaking at a press conference in Bangkok on Tuesday, General Somyot Poompanmoung insisted: "Every case that I am responsible for - especially the important ones, and definitely with all the evidence we have now - I can guarantee that in this case, the police, everyone involved, has worked to the best of their ability - perfectly."
More than 100 officers have been involved in the investigation, collecting evidence and taking DNA samples from those working on the holiday island of Koh Tao.
A post-mortem examination found that Mr Miller was killed by severe blows to the head and drowning.
An inquest which opened in Norwich heard that Ms Witheridge died on the beach from "severe head injuries".
A full inquest will take place on 6 January.