Frank Gardner: Yemen at risk of civil war, says ambassador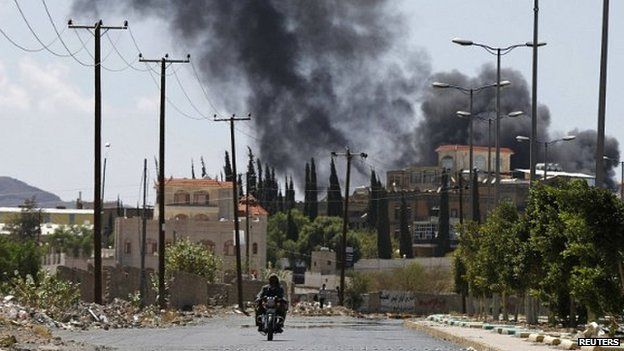 The security situation in Yemen is deteriorating so badly the country is at risk of being torn apart by civil war. That is the warning given this week by Yemen's ambassador to the UK, Abdullah al-Radhi.
Speaking to the BBC, he said it was imperative that a peace deal was reached quickly between the warring parties and that international donors made good on their pledges of aid.
Dozens of people have been killed this week in a series of attacks across the country, most carried out by militants linked to al-Qaeda.
A Shia insurgency known as the Houthi movement has reached the capital Sanaa, where its forces have taken over several government buildings, largely unresisted by government troops who went home.
The Houthis have also taken control of Yemen's main Red Sea port, Al-Hodaidah and have been fighting their sectarian enemies, the Salafis linked to al-Qaeda.
Meanwhile the previous President, Ali Abdullah Saleh, ousted by the Arab Spring protests, has remained in the country and is believed to be still heavily involved in backing one faction against another.
In the ensuing chaos, al-Qaeda has been gaining ground and taking territory.
An assessment by security consultants Five Dimensions put the situation in stark terms: "Yemen is moving slowly from a semi-failed state to a fully failed state, and to that extent Yemen is no better than Libya."
The country's ambassador to London says all is not lost but that Yemen urgently needs the billions of dollars in pledged aid to be delivered.
"We have seen almost none of it," said one of his advisers, adding that the 40-strong group of nations known as "Friends of Yemen" have done little more than talking about the problem.
The spiralling situation is alarming neighbours, especially Saudi Arabia, as well as Western nations including Britain.
Until the emergence of Islamic State (IS) this summer, counter-terrorism officials considered Yemen to be home to the most dangerous branch of the global jihadist movement.
That is because in Yemen, Al-Qaeda in the Arabian Peninsular (AQAP) has a small number of expert bomb-makers, led by Saudi national Ibrahim al-Asiri.
Three times now this cell has been able to successfully evade airport security and smuggle viable explosive devices onto international flights. In 2010 devices reached East Midlands airport in Britain, on a flight bound for Chicago, before an intelligence tipoff led police to where they were hidden in the cargo hold.
It is believed that AQAP has now shared this bomb-making expertise with fellow jihadists in Syria, some of whom may have European passports.
Timeline: Recent key events
29 July - Government removes fuel subsidies as part of economic reforms; fuel prices nearly double
18 Aug - Houthis set up armed protest camps in Sanaa
31 Aug - Houthi leader calls for campaign of civil disobedience
2 Sept - President agrees to dismiss govt; promises to review subsidy cuts - Houthis reject move
10 Sept - Security forces shoot dead seven Houthi protesters outside cabinet building
18 Sept - Clashes between Houthis and Sunni militias in Sanaa leave 40 dead
21 Sept - Houthis occupy key buildings in Sanaa; PM resigns; deal for new unity government agreed.