Italy job reforms: CGIL union organises mass protest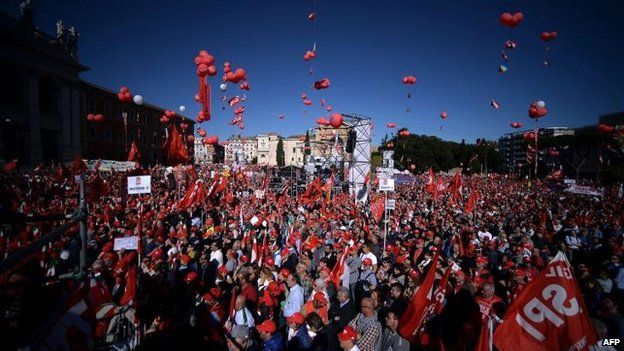 A mass protest is being held in the Italian capital, Rome, against Prime Minister Matteo Renzi's plans for labour market reform.
The turnout for the rally, organised by the largest union, the CGIL, was put at up to one million.
Mr Renzi has backed plans to loosen labour protection and make it easier for firms to fire workers.
The protesters are angry in particular at job prospects for the young - youth unemployment is at a record 44.2%.
Susanna Camusso, head of the CGIL, told the crowds: "We want work for everyone, and work with rights. This is a demonstration for those without work, without rights, those who suffer, who have no certainties for the future."
She added: "We are here and we're not going away. We will strike, and use all our strength to fight to change this government's policies."
Ms Renzi's centre-left Democratic Party (PD) is by no means united on the central provision of the reform - Article 18, which protects the unfairly dismissed.
Mr Renzi wants workers to earn job protection and benefits over a period of time.
Deputy Prime Minister Angelino Alfano defended the government's plans: "CGIL is protesting against a reform which aims to create work. It is protesting to defend the past, but we want to build a future for our young people."
Italy came close to its third recession in six years last month.
Its economic output has contracted by 9% since 2007.