Global terror attack deaths rose sharply in 2013, says report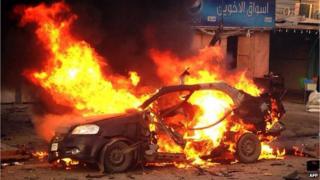 The number of deaths from terrorism increased by 61% between 2012 and 2013, a study into international terrorism says.
There were nearly 10,000 terrorist attacks in 2013, a 44% increase from the previous year, the Global Terrorism Index 2014 report added.
The report said militant groups Islamic State, al-Qaeda, Boko Haram and the Taliban were behind most of the deaths.
Iraq was the country most affected by terrorism, the report said.
The report by the Institute for Economics and Peace says that nearly 18,000 people died from terrorist attacks in 2013.
"Not only is the intensity of terrorism increasing, its breadth is increasing as well," it notes.
Steve Killelea, IEP executive chairman, told the BBC the latest increase in deaths from terrorism was primarily due to the civil war in Syria, which began in 2011.
"The destabilisation in Syria, which has now overflowed into Iraq, is where we feel the upsurge in terrorism," Mr Killelea said.
Global terrorism index 2014
10,000
terror attacks in 2013
17,958
deaths. That's a 61% increase on 2012
14,722 deaths in just five countries: Iraq, Syria, Afghanistan, Pakistan and Nigeria

6,362 deaths in Iraq - the country worst-affected

60 countries around the world recorded deaths from terrorism
AFP
The report, which investigates terrorism trends between 2000 and 2013, uses data from the US-based Global Terrorism Database.
It includes rankings of countries by the impact of terrorist activities, based on the number of terrorist attacks, deaths and injuries from terrorism, and damage to property.
Five countries - Iraq, Afghanistan, Pakistan, Nigeria and Syria - accounted for 80% of the deaths from terrorism in 2013. More than 6,000 people died in Iraq alone.
India, Somalia, the Philippines, Yemen and Thailand were the next five, with between 1% and 2.3% of global deaths by terrorism.
Although Organisation for Economic Co-operation and Development (OECD) countries only experienced 5% of all deaths from terrorism since 2000, they suffered some of the deadliest attacks, the report said.
These included the 11 September 2001 attacks on the US, the 2004 Madrid train bombings, the 2005 London bombings, and the bombing and shooting attack in Norway in 2012.
During 2013, Turkey and Mexico were the OECD countries with the highest number of deaths from terrorism, at 57 and 40 respectively.
Religious or political?
The report said that the four main groups were responsible for 66% of all deaths from terrorist attacks in 2013: Al-Qaeda, the Taliban, Boko Haram and the self-styled Islamic State.
All four groups used "religious ideologies based on extreme interpretations of Wahhabi Islam", it added.
"To counteract the rise of religious extremism, moderate Sunni theologies need to be cultivated by credible forces within Islam," the report said, but it was important that "moderate Sunni countries and not outside influences" led such a response.
The report added that religious ideology was not the only motivation for terrorism.
"There are many peaceful Muslim-majority countries that do not suffer from terrorism such as Qatar, the UAE and Kuwait, underscoring how there are other social, political and geopolitical factors at play," the report said.
In many parts of the world, terrorism was "far more likely to be driven by political or nationalistic and separatist" movements.
The report said the three main factors found globally to correlate with terrorism were
High social hostilities between different ethnic, religious and linguistic groups
The presence of state-sponsored violence such as extrajudicial killings and human rights abuses
High levels of overall violence, such as deaths from organised conflict or high levels of violent crime
Mr Killelea said religious figures in some moderate Sunni countries were already speaking out against extremism.
It was "very, very hard" for Western countries to counteract radical religious ideology, he added.
However, "the West can certainly be supportive in trying to create better mechanisms of policing... and also in terms of being able to address some of the underlying issues which cause group grievances".
The report only includes data until the end of 2013.
Mr Killelea said: "I don't want to predict the outcome for 2014, but it's certainly hard to imagine things being any better."
However, the report stresses that while terrorism is on the increase, it is important to keep the numbers in context.
About 50% of terrorist attacks claim no lives, while 40 times more people are killed in murders than in terrorist attacks, according to a UN report for 2012.