Ukraine crisis: Donetsk without water after shelling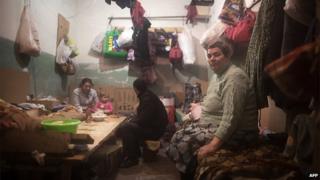 Residents in large areas of rebel-held Donetsk were left without water after power supplies to a filtration plant were hit by shelling, according to the city's independent mayor.
Areas of the city centre still had some water, though supplies to the rest of Donetsk had been cut, he said.
The news came after Ukraine ordered the withdrawal of all state services from rebel-held areas.
More than 4,000 people have died in the conflict in eastern Ukraine.
In a statement on his website, Donetsk Mayor Olexander Lukyanchenko said that engineers were using a negotiated "safety corridor" to try to repair the power supplies to the filtration plant.
The repair work was due to be finished by 19:00 local time (17:00 GMT) on Wednesday, he added.
In response to the ongoing conflict, President Petro Poroshenko signed a decree on Sunday withdrawing all government service funding to rebel-held territory - including to schools and hospitals.
Pensions and benefits to citizens living in the area have already been stopped, although Mr Lukyanchenko says Donetsk continues to pay into the Ukrainian treasury.
In addition, the decree mandates that all Ukrainian state companies must halt operations in the rebel-controlled regions of Donetsk and Luhansk within a week.
A ceasefire in eastern Ukraine was agreed in September, but tensions have been increasing since pro-Russian separatists held elections condemned by Ukraine as illegal.
The West has accused Russia of backing separatists by sending tanks and troops to the region - a claim denied by the Kremlin.
In a bid to overcome their differences, Russian President Vladimir Putin met Germany's Foreign Minister Frank-Walter Steinmeier in Moscow on Tuesday.
The meeting came after Mr Putin was rebuked by Western leaders at the G20 summit in Australia.