Croatia presidency vote goes to runoff after tight contest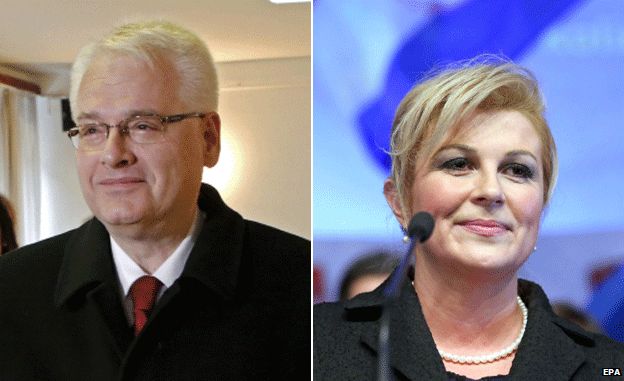 The Croatian presidential election is heading for a runoff after Sunday's vote provided no outright winner.
The incumbent, Ivo Josipovic, won 38.5% of the vote, compared to 37% for Kolinda Grabar-Kitarovic, the election commission said.
Since neither candidate got more than 50%, a runoff will be held in January.
The president is a largely ceremonial role, but the election is seen as a key test for the main political parties.
Mr Josipovic, a law expert and classical composer, was nominated by the governing coalition.
His rival Ms Grabar-Kitarovic is a former foreign minister and assistant to the Nato secretary general. She is the candidate of the main opposition party.
Two other candidates finished far behind.
The election was held amid severe economic problems in Croatia.
The country became the newest member of the European Union, joining last year, but is entering its sixth year of recession. Unemployment is close to 20%.
The Croatian president has a say in foreign policy and is head of the army, but running the country is primarily left to the government.
Parliamentary elections are expected to be held towards the end of next year.
Correction 30 December 2014: A picture at the top of this report has been replaced because the original, supplied by an agency and purporting to be Kolinda Grabar-Kitarovic, was in fact not her.