Flying with Pope Francis to Sri Lanka at start of Asia tour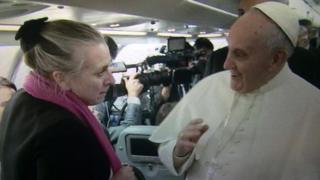 Flying on the Vatican plane with the Pope is a slightly surreal experience. For a start, many of the journalists travelling with Pope Francis, the VAMPs - Vatican Media Accredited Personnel - are just that.
Well-dressed, elegant, and displaying a distinctly Italian sense of style - the female correspondents are in high heels, and even the cameramen are in smart suits and shiny shoes. This is not your average press pack.
It's a comfortable flight from Rome to Colombo on an Alitalia A330, decked out in tasteful muted grey. The only touches of colour on the plane are the papal coat of arms on every single headrest. I am told they sometimes disappear as souvenirs. I make a mental note to self: do not steal from the Vatican or Alitalia.
Journalist number 69
We are travelling to Sri Lanka for the first day of the Pope's six-day tour of Asia, which starts in Colombo and will end on Sunday in Manila with a Mass for five million people.
On the way to the plane, each journalist is handed a thick press pack, with a preview of speeches under strict embargo. I am journalist number 69, a number I shall now have to wear around my neck for the rest of this week-long trip.
It's dark by 18:00, as the journalists walk up the stairs at the back of the plane, chatting, gossiping and exchanging thoughts about the trip ahead as they file into economy. The Pope enters at the front of the plane, and - one assumes - turns left.
There's a smooth take-off. Then, as the flight gets underway, the curtains at the front of our section open.
Suddenly, almost every journalist on board is holding a camera aloft, from the crews with their large video cameras, to a host of iPhones glowing like fireflies, their cameras held up in wobbly-vision to gather personal souvenirs and even selfies of this encounter.
Like watching royalty
Just as suddenly, the Pope is in front of us in person, his image mirrored row by row on a dozen screens held up on either side of the aisles. He is in his Papal robes, immaculately ironed, and exuding that unmistakeable aura of power that is conferred on those at the very top of their organisations.
His press spokesman Father Federico Lombardi gives a brief summary of where we are heading, and hands the microphone to Pope Francis. He is taller than I expect, and gives a megawatt smile as he starts to walk down the aisle to say "Hello" to as many journalists and crews as he can.
It is like watching royalty or a rock star in action. He spends just long enough to make everyone he speaks to feel special. With those he knows well, he sometimes exchanges a joke and roars with laughter, before moving on.
He works his way down the plane row by row, shaking hands with some, blessing the rosaries proffered by others, having his hand kissed by some of the more devout journalists, or nodding as he is asked for a prayer by others, chatting happily with those he knows by sight.
Papal handshakes
The Vatican camera crews walk backwards as he advances; they too wear smart suits, and have neat haircuts and pressed shirts. Father Lombardi walks behind the Pope.
Then suddenly, Pope Francis is in front of me, looking at me, and I introduce myself in faltering Italian. His hand is warm, and he offers a firm grip.
He is a commanding presence, and utterly unfazed by being filmed by so many cameras surrounding him. It must be something you get used to as pontiff.
What does he expect from this trip, I ask him. He bends down closer to offer an ear as he tries to decipher my appalling accent, and gives a big smile - "We'll see," he says, raising an eyebrow, and then "onwards!" He gives my arm a warm pat as he goes on to the next row, never hurrying, but spending just long enough to make as many people on the plane feel they have had their time close-up with the Pope.
Vatican bubble
On this trip, the VAMPs number 76, and range from those who have covered nothing but the papacy for several decades, to others who cover the Vatican as well as all other Italian stories.
I am the newest VAMP, and having seen a papal visit from the outside once, in Istanbul in December, I am keen to see what it's like travelling within the Vatican bubble.
This is an institution that has endured for thousands of years, and it shows.
The media operation is practised, professional and well-prepared.
The booklet that the Vatican has produced for us in several languages outlining the trip has the papal movements planned down to the minute. It doesn't allow for much delay en route, though there are clearly plans already laid anticipating how to deal with delays or any security threats.
Blessings
As I read through my Vatican press pack, it is striking the degree to which the Pope is not only the leader of an ancient global Church but also a practiced flying diplomat, his connections unparalleled by many secular heads of state, apart from perhaps the Queen.
He is at the head of an organisation with representatives in almost every country, and in return, the diplomats of most countries at the Holy See.
Rome is the place they can all meet, overtly or covertly, while Vatican diplomacy has in recent weeks helped thaw the long deep-frozen relationship between the US and Cuba.
And as we fly overhead, the Pope's blessings, prayers and warm wishes are telegrammed to the heads of state of each country as we pass above, from Albania to Greece, Turkey, Iran, the United Arab Emirates, Oman and India, the time we pass over each logged on a map in an embossed folder that each journalist receives.
Every head of state we pass over is offered prayers and blessings, as the leader of the world's 1.3 billion Catholics flies through the night skies above.