India PM Narendra Modi warning about religious attacks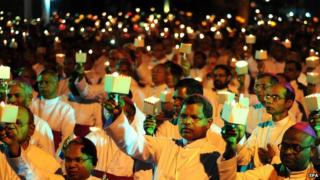 Over the past few months, there have been a series of attacks on churches and Christian institutions in Delhi.
In one instance, a Catholic church was burned down in a suburb of the capital.
The violence has upset India's Christian community, which is a small but visible and influential minority.
Church leaders have alleged that right-wing Hindu groups are behind the attacks and have expressed fears that they have been emboldened after the election victory last year of the Hindu nationalist BJP, led by the Prime Minister, Narendra Modi.
The Hindu groups, who have close ties to the BJP, have also carried out a number of mass religious conversions across the country in recent weeks, allegedly forcing or inducing Muslims and Christians to convert to Hinduism.
Image affected
Mr Modi has been strongly criticised for not speaking out against the Delhi attacks or the conversions.
But earlier this week, he spoke out for the first time saying that his government will protect all faiths and not allow any group to incite religious hatred.
His comments came at a function organised by church leaders but also followed a humiliating defeat for the BJP in local elections in Delhi this month.
---
Religious strife
2 Dec 2014: Hundreds of Christians protest in Delhi after St Sebastian's Church is badly damaged in a fire
4 Dec: Minister Niranjan Jyoti uses an abusive term to refer to non-Hindus at a rally in Delhi
8 Dec: More than 50 Muslim families reportedly converted to Hinduism against their will in the town of Agra
7 Jan 2015: BJP MP Sakshi Maharaj sparks outrage by urging Hindu women to have at least four children "in order to protect the Hindu religion".
14 Jan: Church vandalised in West Delhi's Vikaspuri area
2 Feb: Church vandalised five days before Delhi assembly elections in Vasant Kunj area
---
Many in the BJP and the government believe the prime minister's image has been affected by these attacks and his apparent reluctance to rein in Hindu extremists.
They are also conscious of how the violence is hurting India's reputation internationally.
In January President Obama spoke out against religious intolerance in India during a visit to the country, saying India's future success would depend on it not splintering along religious lines.
Obama's comments were widely reported and picked up by opposition parties to attack the government and its perceived lack of action.
So last week, Mr Modi summoned the Delhi police chief, asking him to investigate the attacks urgently.
All of this has been welcomed by the Christian community although many of them say the prime minister should have spoken out earlier.
Church leaders now say they want steps taken to prevent violence against Christians in other parts of India.
But so far there are little signs of Mr Modi making similar overtures to India's large Muslim minority, which has also suffered violence at the hands of Hindu extremists.