South African rapper Flabba's girlfriend freed on bail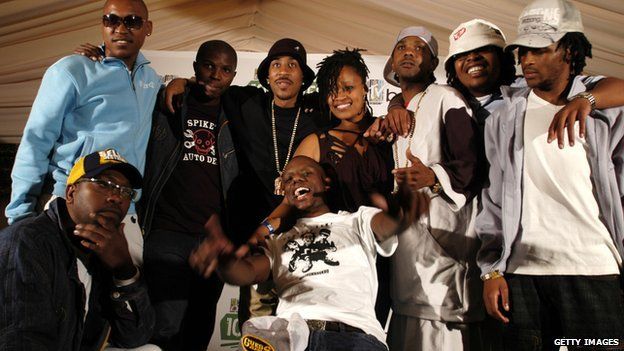 A South African court has granted bail to a woman accused of murdering her boyfriend, hip-hop star Nkululeko 'Flabba' Habedi.
Sindisiwe Manqele pleaded not guilty to the charge, saying she stabbed the popular rapper in self-defence.
Prosecutors opposed her bail application, claiming she was a danger to herself because she had attempted to take her own life.
Flabba, 38, died at his home in a Johannesburg township on 9 March.
Ms Manqele entered the court in Alexandra township with her face covered, and it was only visible to the magistrate and her lawyer during proceedings, reports the BBC's Milton Nkosi from Johannesburg.
Only family members and media representatives were allowed into the court.
The police had put a cordon outside the entrance, our correspondent says.
Denying that she murdered her boyfriend in cold-blood, Ms Manqele's bail application read: "The state has a weak case against me. There isn't one iota of evidence that I intentionally and unlawfully killed."
The court granted her bail of $800 (£540).
It ruled that there was no evidence that she has tried to interfere with witnesses, and her injuries were too extensive to have been self-inflicted, South Africa's privately owned eNCA news site reports.
The musician was buried on Sunday at a service attended by government ministers, celebrities and hundreds of fans.
His estranged wife, Mpho Habedi, said in a statement read by a friend that "despite what people believe, I am truly hurt. I ask [Flabba] to give me strength and guidance to continue raising our child".
Flabba, a member of the award-winning Skwatta Kamp hip-hop group, died in the early hours of 9 March.
His brother, Tshepang Habedi, said he was stabbed once in the heart.
Skwatta Kamp, founded in 1996, were seen as the pioneers of South African hip-hop, featuring local street slang and rhythms.
The group had hits such as uMoya and Clap Song.
Related Internet Links
The BBC is not responsible for the content of external sites.