UK Vice News journalists return home after Turkey imprisonment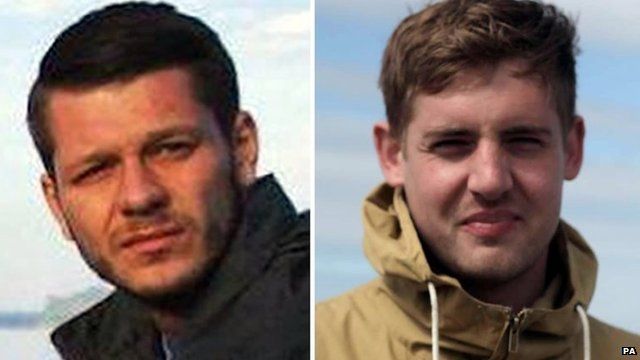 Two British journalists arrested in Turkey on terror charges have returned home, their employer has said.
Correspondent Jake Hanrahan and cameraman Philip Pendlebury, from Vice News, were arrested while filming in Diyarbakir on 27 August.
They were charged with "working on behalf of a terrorist organisation" and questioned over links to Islamic State and Kurdish militants before being released on Thursday.
Vice said they were in good health.
But the media group said it was "extremely concerned" about their Iraqi translator, Mohammed Ismael Rasool, who remains in custody.
In a statement it said: "Vice News continues to work around the clock with all relevant government and legal representatives to secure his [Rasool's] release.
"We call on the Turkish authorities to continue their positive course of action in freeing Jake and Philip, and releasing Rasool immediately."
The Foreign Office had said it was concerned by the arrests and expected Turkey to uphold its obligation to uphold press freedom under EU and UN human rights law.
Mr Pendlebury's sister, Alex, said on Facebook that the allegations against her brother were "ludicrous" and she expressed her delight that the "nightmare" had come to an end.
She posted: "I can't even begin to tell you how happy I am. This has been the most difficult week of our lives but now the nightmare is over!
"I would like to express my gratitude and appreciation to each and every one of you, because without you this wouldn't have happened!
"From the bottom of my heart thank you so much!!"
The three men had been in the south-east region of Diyarbakir filming clashes between police and youths from the outlawed Kurdistan Workers' Party (PKK) which have broken out in recent weeks, according to Vice News.
Turkey has limited journalists' access to the region and was criticised by Amnesty International for detaining the group.
Vice News is an international news organisation which publishes documentaries and written news, focusing on "under-reported stories from around the globe".