G20 makes fragile progress in the face of atrocity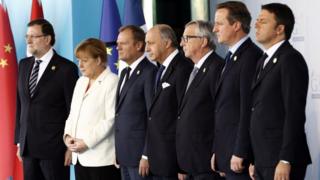 This long planned summit brought the world's most powerful leaders to Turkey immediately after the Paris attacks.
So at least they could ask each other here - in the face of that horror, and a series of other recent atrocities in Beirut, in Iraq, and in the skies over the Sinai desert: "Can we put aside some of our differences and do better when we take on the extremists?"
The most obvious progress, however fragile, was over Syria, described by French president Francois Hollande as "the greatest factory of terrorism the world has ever seen".
For more than four years, Syria has been laid waste by a civil war of increasing savagery.
Large areas have emptied of people, leaving ungoverned space for IS extremists to seize.
So ending the war - somehow - is now even more imperative.
President Vladimir Putin is key. Russia too is an IS victim now. So has he been brought closer to the US-led coalition, or they closer to him?
Britain's Prime Minister, David Cameron, had face-to-face talks with Mr Putin.
They did break down some of the profound differences between Russia and the West over that intractable Syrian civil war.
Mr Cameron told President Putin Russian bombing of the moderate opposition in Syria was a "mistake".
Compromise needed
Then, after their talks, Mr Cameron said that was changing: "I think there are some signs, some signs, that they are focusing more on IS, but we need to see that continued.
"The gap has been enormous between those of us who believe [Syria's President Bashar al-]Assad should go immediately and those, like President Putin, who have been supporting him, who continue to support him. I think everyone recognises the need for compromise."
The hope is that prospects for a peace process supervised by the United Nations are now improving, although substantial obstacles remain.
The prize, of course, would be an eventual democratic settlement in Syria.
At the G20, President Putin said Russia had changed tactics, focusing its bombing on IS, not on moderate opposition forces ranged against President Assad. Russia was actually starting to work with some of the Western-backed groups.
The Russian President used his closing press conference to declare: "Currently, on the battlefield, we have established contact with a part of the armed Syrian opposition who have asked us not to strike territories under their control.
"We have come to an agreement with them, and we are following it. In addition, when the armed opposition can actively fight terrorist groups, we are prepared to provide them with our air support".
Western leaders will be keen to verify that.
US tactics
As for US President Barack Obama, he said the military coalition working with the US had taken territory back from IS and was denying them all-important space in which to train and to plot attacks.
But President Obama again rejected committing substantial US ground forces, while arguing patience would be rewarded.
"There will be an intensification of the strategy that we put forward, the strategy that is ultimately going to work, but, as as I said from the start, it is going to take time," he said.
More than that, President Obama stressed a world united against "the face of evil" would prevail.
But I have to report, listening to him in Turkey, he was not sounding his usual confident self.
It was more the uncertain commander-in-chief.
"There are going to be some things we try that don't work, and some strategies that do, and when we find ones that do, we will double down on those," he said.
President Obama even downplayed what he called "modest" diplomatic progress on Syria.
Still, the heads of government did agree on a range of measures, including to share intelligence better, as well as to strengthen aviation security.
The trouble is they sorely need those improvements, after devastating failures that apparently made destroying the Russian airliner possible and let some of those who carried out the Paris attacks move around Europe unchecked.
This was a G20 like no other.
---
Who attended the summit?
Argentina: Axel Kicillof, Economy Minister
Australia: Malcolm Turnbull, Prime Minister
Brazil: Dilma Rousseff, President
Canada: Justin Trudeau, Prime Minister
China: Xi Jinping, President
France: Laurent Fabius, Foreign Affairs and International Development Minister
Germany: Angela Merkel, Chancellor
India: Narendra Modi, Prime Minister
Indonesia: Joko Widodo, President
Italy: Matteo Renzi, Prime Minister
Japan: Shinzo Abe, Prime Minister
Mexico: Enrique Pena Nieto, President
Russia: Vladimir Putin, President
Saudi Arabia: Salman bin Abdul Aziz Al Saud, King
South Africa: Jacob Zuma, President
Republic of Korea: Park Geun-hye, President
Turkey: Recep Tayyip Erdogan, President
UK: David Cameron, Prime Minister
US: Barack Obama, President
European Union: Donald Tusk, European Council President
European Union: Jean-Claude Juncker, European Commission President
Invited guests:
Spain: Mariano Rajoy, Prime Minister
Azerbaijan: Ilham Aliyev, President
Malaysia: Najib Tun Razak, Prime Minister, 2015 Association of South-East Asian Nations chairman
Senegal: Macky Sall, President
Singapore: Lee Hsien Loong, Prime Minister
Zimbabwe: Robert Mugabe, President, African Union representative
---