COP21: Rallies call for Paris climate change action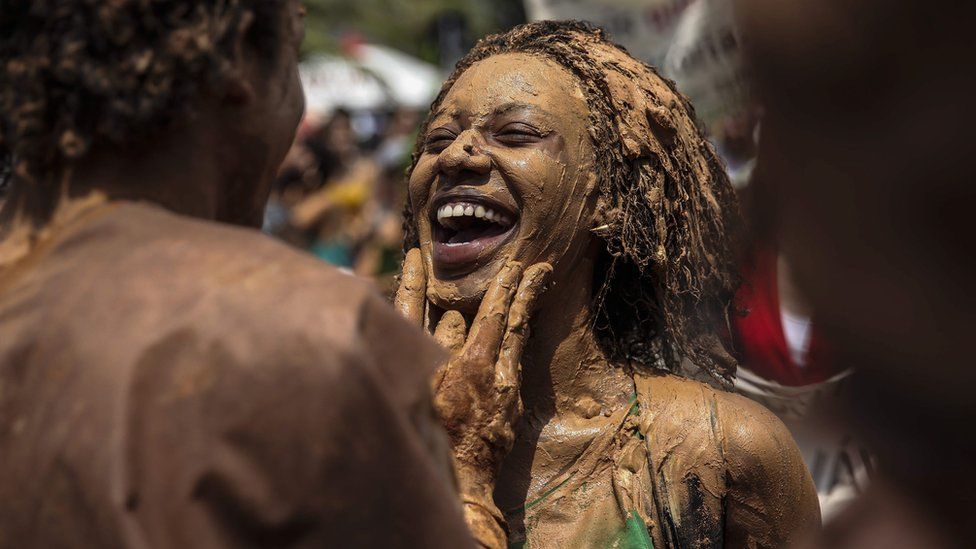 Hundreds of thousands of people have marched worldwide to demand action to stop climate change, the day before a UN summit starts in Paris.
One campaign group says more than 570,000 protesters took part in marches on all the main continents.
Activists want action at the Paris talks to limit the rise in the average global temperature to 2C (3.6F) above pre-industrial levels.
In Paris itself, more than 200 demonstrators were arrested after clashes.
Earlier, a human chain was formed by hundreds linking arms in the French capital along the route of a march that was called off after the 13 November attacks that killed 130 people.
A gap in the chain was left in front of the Bataclan concert hall, where 89 people were killed.
Hundreds of pairs of shoes were left on Place de la Republique to remember those left frustrated in their plans to march.
Among them were a pair donated by Pope Francis, who has called for urgent action on climate change.
Elsewhere across the world:
an estimated 50,000 people took part in a march in central London, where opposition leader Jeremy Corbyn addressed crowds
some of the earliest protests in the day took place in the Marshall Islands, a US territory in the Pacific Ocean threatened by rising seas
in Kenya, a march took place across the equator
a small group took part in a march across a glacier in the south of Chile
the mayor of Sydney in Australia tweeted to say that there were "at least 45,000" demonstrators, making it the biggest ever such march in the city
"In 10 years' time our children are going to say, 'Mum, did you know about this? What was everyone doing'?" said Kate Charlesworth, a doctor and mother, in Sydney.
"These climate changes affect us all and it is here, through mobilisation, that we show how united our countries are against those larger nations that continue to pollute and refuse to cut back," said Antolin Huascar, a Peruvian agricultural official marching in Lima.
Some of the demonstrators in Place de la Republique in Paris were apparently protesting against France's state of emergency, and have been disowned by the main organisers.
The order, banning public gatherings, was put into place after the 13 November attacks.
Many of those involved in the clashes wore masks or covered their faces. Candles from a makeshift memorial in the square were thrown at police.
Interior Minister Bernard Cazeneuve said 208 people had been arrested, of whom 174 are still in custody.
President Francois Hollande said it was "scandalous" that the clashes happened "where flowers and candles have been left in memory of those who were killed by the terrorists' bullets".
He added that the clashes had "nothing to do with those who protect the environment".
About 150 world leaders are due to attend the Paris talks including US President Barack Obama, China's Xi Jinping, India's Narendra Modi and Russia's Vladimir Putin.
Negotiations began on Sunday afternoon but the main talks start on Monday.
Mr Hollande says he hopes a deal can be achieved, but that it will not be easy.
"Man is the worst enemy of man," he said. "We can see it with terrorism. But we can say the same when it comes to climate. Human beings are destroying nature, damaging the environment."
UN climate conference 30 Nov - 11 Dec 2015
COP 21 - the 21st session of the Conference of the Parties - will see more than 190 nations gather in Paris to discuss a possible new global agreement on climate change, aimed at reducing greenhouse gas emissions to avoid the threat of dangerous warming due to human activities.
In video: Why does the Paris conference matter?
Analysis: From BBC environment correspondent Matt McGrath
More: BBC News special report (or follow "UN Climate Change Conference" tag in the BBC News app)