'Wrong Ivanka' from UK hits back after Trump tweet
A woman from Brighton who was mistaken for Ivanka Trump on Twitter by none other than the US President-elect himself has told the BBC it has been a surreal start to the day.
Ivanka Majic, a digital consultant, said she and her husband were woken at 06:00 by calls from the media.
They told her she featured in a tweet to Donald Trump's 20 million followers.
Mr Trump was quoting praise for his daughter from another Twitter user, who had used the wrong username.
Users were quick to jump in and point out the mistake, and Ms Majic has since replied: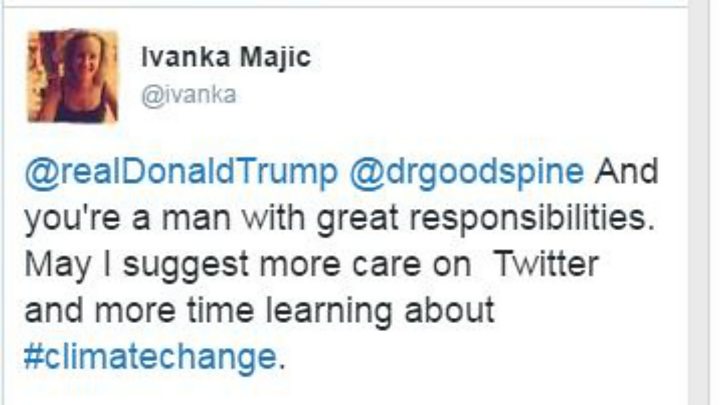 Ms Majic, who has worked for the Labour Party in the past, said she discovered what had happened when a news agency texted her husband.
"I came downstairs to check my phone and I had so many notifications," she told the BBC. "It's very unusual to be speaking to both ITV and the BBC 45 minutes into your day."
---
You may also like
Trump inauguration TV listing goes viral
Squirrel 'threat' to infrastructure
Giant alligator spotted in Florida
---
Ms Majic's username is @Ivanka, while Ivanka Trump's is @IvankaTrump.
She said she has regularly been mistaken for Ms Trump on Twitter over the past year, but never on such a scale.
"Without Donald Trump it's a steady simmer of mentions," she said. "I am kind of like that @johnlewis bloke but John Lewis is probably nicer to be associated with."
"During the election I had a Twitter bot for everyone who accidentally mentioned me encouraging them to vote for Hillary [Clinton]".
"Ivanka is an incredibly boring and popular Slavic girls name. The other one I get confused with is an Hungarian concrete company called Ivanka concrete," she added.
"I'm still undecided about whether to change my username. I don't use Twitter very much partly as a result as having so many mentions. Tweets from normal people get lost in the mix."
"I'm someone who has used twitter since 2007. A new thing comes along and you create a username never thinking that one day Ivanka Trump's dad will be President."
Patrick Evans, UGC and Social News team