Malala Yousafzai's mother: Out of the shadows
By Siobhann Tighe
BBC Radio 4 Woman's Hour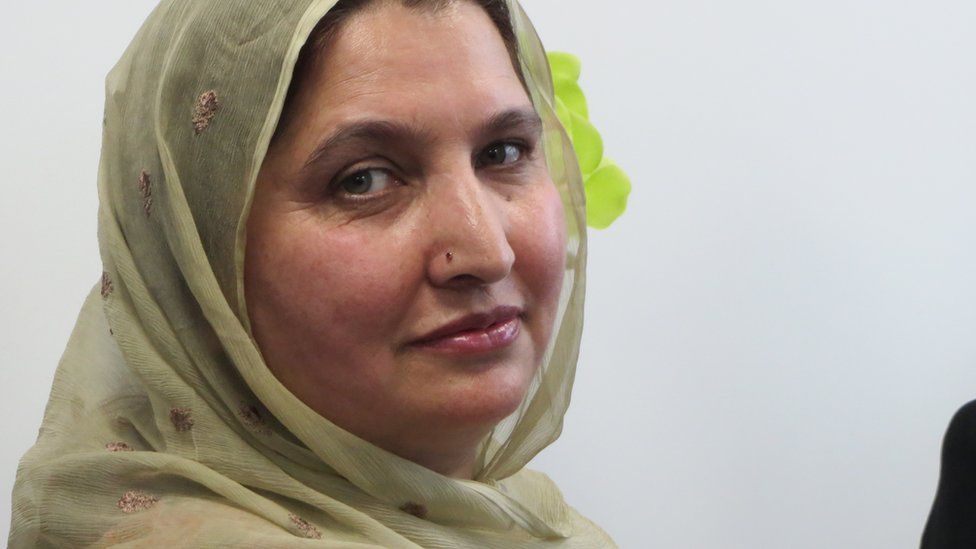 Over the past five years, Malala Yousafzai has become one of the world's most famous young women - the schoolgirl shot in Pakistan who built a new life in Birmingham after surgery, then campaigned for education for all girls, won the Nobel Peace Prize and inspired the world with her life story.
Now her mother, Toor Pekai Yousafzai, has spoken to the BBC for the first time to explain how her own life has changed in the past five years.
"It was very hard when I left everyone behind," says Toor Pekai. "We didn't expect to live in a foreign country.
"When other people leave their country they accept everything that comes their way and they're ready for it, but we couldn't prepare.
"We had to suddenly leave Pakistan. The attack changed everything. We had to focus on Malala's life."
Meanwhile, Malala's mother has played her own low-profile, but important, role at home with the rest of the family in Birmingham.
Toor Pekai explains: "When Malala was being treated in hospital we were very busy looking after her. Then she wrote a book and we were busy with that too, so that's why I wasn't in the public eye.
"But now I'm trying to help other people get an education, so from now on I want to be more involved in these kinds of things. But if these interviews were in my own language it would be easier!"
And it is clear that Toor Pekai has her own compelling story to tell about the events that brought Malala across the world. She still gets visibly upset as she remembers watching Malala fighting for her life in hospital.
Her hands twist together and she cries but her smile comes back quickly when she thinks about her daughter's life now, the success she has already had and what the future holds. Every year of Malala's life is a bonus for Toor Pekai.
"Last year I wrote in her birthday card 'you are my four year old daughter' because I now keep count of the years since the attack. It's like she is reborn from that point."
Toor Pekai's life is now rooted here in the UK, looking after Malala and her two sons. Despite Malala winning a Nobel Peace Prize and mixing with world leaders she still has to tell her to clean her room and look after herself.
In fact, when she describes her day-to-day relationship with her daughter, it sounds like just any other mother dealing with a millennial teenager.
"She doesn't eat very well and doesn't drink enough water. She doesn't go to sleep on time and studies until midnight. We tell her to eat fruit and do her prayers, and she tells her brothers, but she doesn't."
Although Toor Pekai did not get an education herself in Pakistan, she now attends English classes in Birmingham and has built a network of friends through that.
"Some of them are from Swat and I knew them from back there already. Recently another friend of mine came from Peshawar.
"There aren't any people from Pakistan in my English class but there are people from Iraq, Iran and one from Afghanistan. We have parties and I cook rice, chicken and fish, and they like my food."
Learning English in the UK has given the 45-year-old some independence.
"At first I struggled to understand when people spoke to me in English, and I even had difficulty with words like 'yes' and 'no' but I'm improving and want to keep going. It makes life easier with travelling and going to the doctors."
Malala, who is now 19, is due to go to university in the autumn to study politics, philosophy and economics. There is a solid offer on the table.
"We're very happy for her. On the day she got her offer we cried but every moment of her life makes us happy," she said.
But tears come again at the prospect of her baby flying the nest.
"I'm worried about what she'll eat and how she'll cook for herself. It's difficult but I have to accept it. I'll miss her a lot and home will be empty without her. Malala is not just my daughter but my friend as well."
You can hear the full interview on BBC Radio 4's Woman's Hour from 10:00 BST on Tuesday