Caught tech-handed: The criminals snared by their own stupidity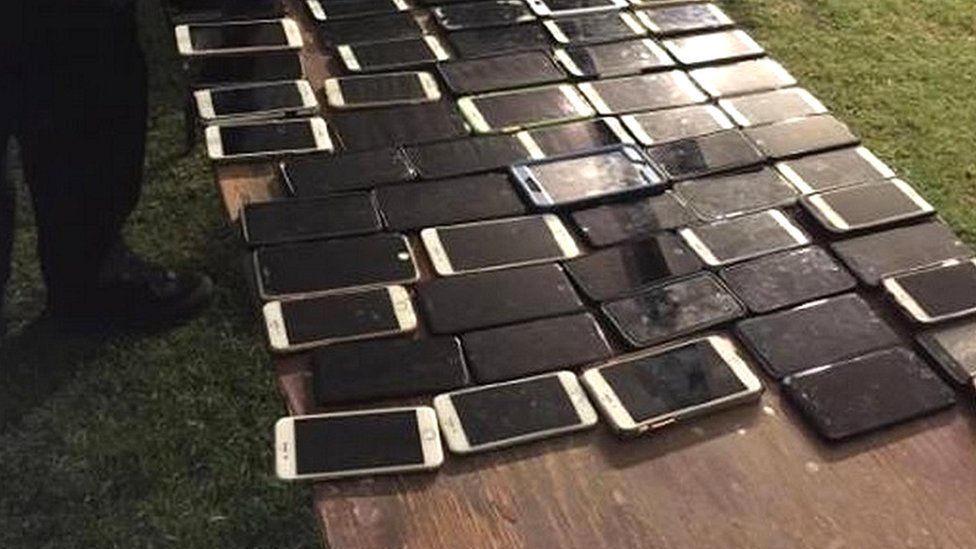 The Canadian woman convicted of killing her friend after police saw she had posted a picture of the murder weapon - her belt - on Facebook shows how suspects are not only exploiting technology but increasingly being snared by it too.
Here are some more examples of how technology has led police to suspects and how criminals have fallen victim to their own stupidity, ignorance and vanity.
A thief who stole more than 100 smartphones at a music festival was detained after revellers with iPhones tracked them using an app that comes with the phone.
The Find My iPhone app shows the device's location on laptops or other devices.
Reinaldo De Jesus Henao, 36, was arrested at the Coachella festival in California last April.
Police had already dedicated extra resources to Coachella after "chatter on social media" about missing iPhones, Sgt Dan Marshall told tech news site Gizmodo.
Several phones were returned immediately, Indio Police added, while the rest were handed to lost property at the festival site.
In 2011, police in California recovered a stolen laptop after being handed clues to its whereabouts along with pictures of a suspect thanks to a stealth software program.
Cab driver Muthanna Aldebashi, 27, was snapped on the Mac device's built-in camera after he powered it up.
The Mac's rightful owner Joshua Kaufman, an Oakland interaction designer, had installed software called Hidden, which supplies the computer's location, photographs taken on the Mac's internal camera and shots of the Mac's screen display.
The program immediately began sending Mr Kaufman photographs of a bearded man with shaggy dark hair sleeping on a couch, sitting shirtless on a bed in front of the computer, and driving.
The software also sent Mr Kaufman - who has blogged about the theft - a screen shot showing the man logging into his own e-mail account - information investigators later used to lure him into an arrest.
Thieves who steal electronic devices can find themselves literally facing justice simply by using them.
There have been numerous reports of stolen smartphones and laptops being recovered after photos taken on devices are automatically uploaded to the owner's iCloud account.
In 2015 Randy Schaefer had an iPad, a laptop and some cash stolen from his truck parked in Houston, Texas.
The thieves gloated by taking selfies and recording themselves with their booty.
When checking his iCloud account moments later, Mr Schaefer discovered more than a dozen pictures and video of the suspects - who said they were "just hustling" - with their mouths full of $100 notes.
A cyclist robbed at gunpoint by three men in South Africa in 2014 caught the entire episode on a camera strapped to his head - and the thieves failed to notice.
Malcolm Fox handed over his possessions, including his smartphone, car keys, designer Oakley sunglasses and bike, after he was approached by a man with a gun and then "frisked" by another man with a knife.
However, none of the men seemed to have any idea of the importance of Mr Fox's GoPro camera, which they appeared to investigate and stare at but were uninterested in taking.
Mr Fox, who was approached by the men after taking a wrong turn while cycling in Somerset West, later shared the dramatic footage on YouTube.
The suspects were later arrested and Mr Fox's mobile phone and bike were returned, according to reports.
Catch me if you can... here!
Twitter is all about encouraging followers - and that is exactly what happened when an armed man on the run from police in Chicago began live-tweeting the chase and posted the location where he was hiding.
Brandon McNeil, 21, was found in a basement by officers who discovered his social media boasts.
"Lol look I just left the police they lookin fa me," he tweeted during the 2016 chase, adding: "Here's my hiding spot."
McNeil also posted a photo of a gun, police records show, and the location of a home where he had chosen to hide.
He was arrested shortly afterwards when officers contacted the homeowner, police said.