Albert Woodfox: My 43 years in solitary confinement
Albert Woodfox spent 43 years in solitary confinement. He was released in February 2016, but says he is still adapting to life outside.
He had been in solitary confinement in Angola prison, the state penitentiary of Louisiana, since April 1972 for the murder of prison guard Brent Miller.
Along with Herman Wallace and Robert King, he was part of the group known as the "Angola 3".
They had consistently denied their involvement over the killing.
In February 2016, Mr Woodfox was the last of the three to be freed. He is now living in New Orleans near his daughter, grand-children and great grand-children.
"I have been learning how to live as a citizen and a free individual, because of the length of time [in solitary confinement], everything is pretty much a first time experience," he says.
Accused
Mr Woodfox was sent to Angola in 1971 for armed robbery. The Louisiana penitentiary was notorious at the time.
"There were constant killings, stabbings, beatings on inmate on inmate it was segregated at the time, it was basically a violent place," he says.
Mr Woodfox along with Herman Wallace and Robert King, was a member of the Black Panther Party.
He threw himself into campaigning against the racial segregation and brutal conditions of Angola in the 1970s.
One day in April 1972, he returned to his unit from the dining hall and everything changed.
"I heard the whistles blowing and I could hear the security people screaming, hollering 'we're going to kill you'. We all came out and we all had to make a line. When I went in I was being accused of killing Brent Miller."
Nine by six feet
Mr Woodfox was taken to what was considered the worst solitary cell in Angola, colloquially referred to as "the dungeon", and describes being beaten there.
The next day he was transferred from the dungeon to Closed Cell Restriction (CCR), a form of solitary which you are housed in a cell 23 hours a day with one hour of exercise. He would be in CCR for almost 44 years.
He can describe the cell where he spent most of this time - nine by six feet with two bunks attached to the wall and a toilet and face bowl combination attached to the wall at the back.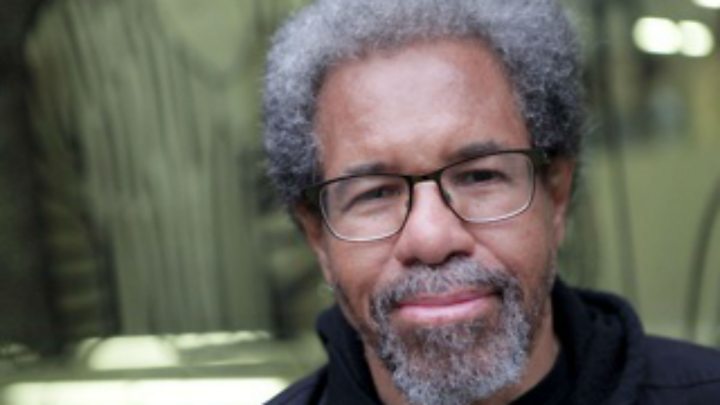 'Strength'
Mr Woodfox kept himself busy during this time and taught himself both criminal and civil law, but he also used the hour he was able to leave his cell each day to teach other inmates.
In the years that he was in solitary confinement Albert says his greatest achievement was teaching another man how to read and write.
"All of the things we went through and all the pain, the suffering, the struggles, the victories here and there, none of that compared to the feeling I got when a man who could not read or write at all could sit across from me and read from a book, " he says.
Mr Woodfox became a member of the Black Panther Party while in prison and credits the party with giving him focus.
"The voice of the panthers was stronger than the voice on the street and presented me an opportunity to change and become a productive individual," he says.
When he was put in solitary confinement he says it kept him going.
"[It] gave me a lot of strength, gave me a purpose, it gave me an opportunity to be a leader."
How has America changed?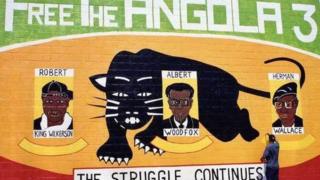 One of the most common questions Mr Woodfox has been asked since his release is how America has changed.
"I guess when you're locked in solitary confinement, you develop a keen sense of human nature and you're able to detect, pick up on things that a normal everyday man, woman or child wouldn't."
But for him, despite the four decades in between, some aspects remain unaltered.
"I was shocked to realise that whatever changes had occurred in America they were superficial changes, they were not changes which were deep-rooted," he says.
"I realised that institutional racism was still very much a part of American society."
Listen to Albert Woodfox speaking to Sarah Brett on BBC Radio 5 live