100 Women: Do female leaders improve women's lives?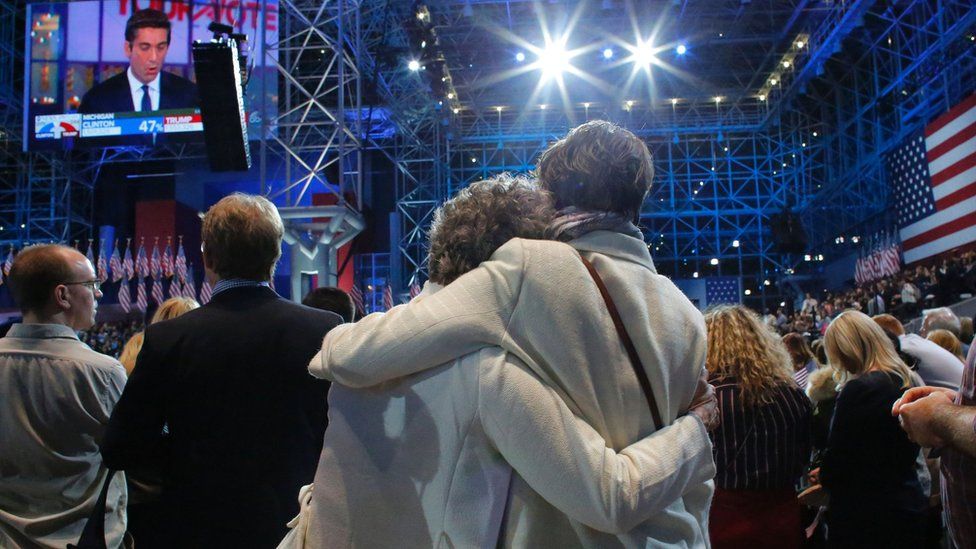 "I can't believe we just put the biggest crack in that glass ceiling yet... if there are any girls out there that stayed up late to watch - I may become the next woman president, but one of you is next." The words of Hillary Clinton on becoming the Democrat nominee in July 2016.
In the end she failed to smash the ceiling, but Hillary Clinton's choice of election night venue was anything but coincidental.
The Javits Center is thought to have the biggest glass ceiling in New York City, and would have been the perfect setting for her to become the first woman president in US history.
But Mrs Clinton's defeat bucked the trend - the number of elected women in power globally has doubled over the past decade.
But that still means that women leaders represent fewer than 10% of the 193 United Nations member states.
These leaders are clearly breaking down barriers - but are they taking other women in their country along with them? The political quota system in Indian local government may yield a clue.
Since 1993, one in three randomly selected Indian villages has been required to reserve the role of chief councillor for a woman, creating a naturalised social experiment.
When asked what they wanted for their children in terms of education, age when they had their first child and job prospects, parents generally had higher aspirations for their sons.
But once a village had a female leader for two election cycles, the parents' "aspiration gap" for boys and girls closed by 25% compared with those who had never had a woman leader.
For the adolescents themselves, it narrowed by 32%. Expectations for boys didn't fall when there was a woman in charge, so the smaller gap was entirely down to higher aspirations for girls.
The authors noted the female leaders had limited scope to change the situation of women and girls through the policy. But their presence as positive role models was enough to improve the aspirations and education of the young women around them.
A 2012 Swiss study also suggests role models inspire women's behaviour in leadership situations, even from a distance.
The authors invited male and female students to make a speech in a virtual reality environment in four groups: one saw a picture of German Chancellor Angela Merkel on the wall, one saw Hillary Clinton (then US secretary of state), one saw Bill Clinton and a control group saw no picture at all.
Women spoke significantly longer when primed with a successful female politician than when primed with a male politician or no role model. And the longer they spoke, the more positively they rated their own performance.
"Not only is an increase in female politicians the goal of equality, it can also be (as our results show) the engine that drives it," the authors say in their report.
There is data to back up the idea that the mere existence of women in political roles can be linked with greater equality in everyday life.
The World Economic Forum (WEF) ranks countries in its Global Gender Gap Report based on four key factors - health and survival, educational attainment, participation in the economy and political participation.
In 2016, the countries that had the smallest overall gender gap - Iceland, Finland and Norway - were also the most likely to have women in politics. It suggests that women do better overall in countries where they are represented politically.
There are difficulties in making a concrete link between women leaders and an improvement in quality of life for their female counterparts. This is partly because equality has improved greatly over the past century in almost every country, regardless of whether or not it has had a female leader.
Also, because many women were either elected recently or were in positions of leadership for a short period of time, it's difficult to measure the direct impact of their policies.
However, the evidence we do have makes a case that women who are able to crack the glass ceiling raise the aspirations of their female citizens, and that their countries are also more likely to offer a better quality of life for women.