100 Women: Your ideas on tackling female illiteracy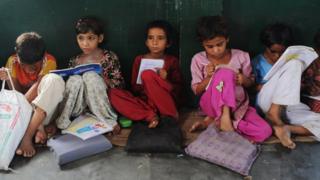 As part of this year's 100 Women Challenge, you have been sharing your ideas on how to tackle female illiteracy globally.
This week, Tunisian children's book author and former 100 Women list entry Samar Samir Mezghanni has picked some of your suggestion to feature.
"What struck me the most about these ideas is the contributors' awareness of how global the issues that women face today are," she says.
"The problems contributing to female illiteracy are not country- or region-specific because all societies are patriarchal.
"Women illiteracy experiences and challenges are shared around the world, and these suggested solutions promise to leave no one behind."
'Women should mentor women' - Susan, Hastings, UK
In Delhi, or anywhere in the world where there is female illiteracy, a mentoring programme could be set up, enabling local women who can read/write to register to volunteer to teach women who can't read/write, on a one-to-one or small community group basis.
The programme could be promoted to women at community locations regularly visited by them, like markets. Teaching sessions might even take place at these locations.
Samar's response:"Women empowerment and equality cannot be achieved without supportive attitudes amongst women. I like this idea because it uses sisterhood to transfer knowledge and create an educational support system for illiterate women."
Your ideas on smashing the glass ceiling
What is 100 Women?
BBC 100 Women names 100 influential and inspirational women around the world every year. In 2017, we're challenging them to tackle four of the biggest problems facing women today - the glass ceiling, female illiteracy, harassment in public spaces and sexism in sport.
With your help, they'll be coming up with real-life solutions and we want you to get involved with your ideas. Find us on Facebook, Integral and Twitter and use #100Women
'Women need affordable and sustainable sanitary products' - Laura, Kentucky, USA
The area closest to my heart touches all four of [the 100 Women challenge] issues. Right now, I am feverishly focused on bringing the first 100% bio-compostable sanitary pad to Tanzania.
My focus on this stemmed from understanding just how much school young women (everywhere - but to a greater extent, in developing countries) were missing because of this normal bodily function. Believing that girls' education - with a particular focus on literacy - is the key to reducing extreme poverty for generations, I became determined to explore a scalable sustainable solution.
As I learned more about how menstruation impacts so many women in ways much more than physical aches and pains, I took note of women who lost employment because of it (and who can deny that people hesitate to put women in power because we're "hormonal at that time of the month") and women who were harassed and shunned because of their cycle (or were raped looking for a private place to clean themselves or forced to trade sex for hygiene products).
And who can deny that menstruation is a limiting factor in sports, adding to the general perception of women as the weaker sex?
I know that true change will come when perceptions change - just as much as the provision of an affordable, sustainable product.
'We need government-supplied menstrual cups' - Glenda, Cape Town, South Africa
We need to keep all girls in school and have [already] made huge progress in marginalised girls having access to and attending school. There are also literacy (and science and engineering) intervention and acceleration programmes.
But if the girls do not go to school they will not attain these targets or be part of these programmes.
Particularly in Africa girls do not go to school when they are menstruating and miss on average 250 days of high school! We need to get funded/government-supplied menstrual cups to keep girls in school and women in work.
Samar's response to Laura and Glenda: These are brilliant ideas. The societal perceptions of menstruation have created boundaries to women's educational opportunities. It is time we turn menstruation from a shameful experience into one that is accepted and treated as normal.
Do female leaders improve women's lives?
'We should not forget about older women' - Aarthy, Chennai, India
A study says that nearly two-thirds of the world's illiterate are women. Literacy rates are said to be increasing, however the main issue here is that we lose focus on women who are in their adulthood and who were denied education when they were kids.
They could be mothers or grandmothers and still not have access to education. It is important to take steps [to educate girls] but it is also equally important to educate the adults. How about a school where mums and daughters can study together?
Samar's response: I like the idea of a mother and daughter studying together. There is a strong bond between them that is rarely channelled in empowering them intellectually and economically. Mothers and daughters support each other in social contexts but this idea can amplify their mutual support, directing it towards a rich learning experience for both.
'Let all girls read' - JV, USA
[Girls] can't do well if they don't start early, or if they drop out too soon. Unfortunately I don't have a quick-fix solution but I think the right place is to start organically. Let girls read, let them read whatever they want or even what their communities prefer. Take responsibility for literacy out of schools' hands. Reading comprehension is a life skill and [we have] to make it available to everyone, like food and safety.
Literacy is not just a third-world problem. Reading comprehension is tough, and in the world of fake news and social media, critical thinking and literacy is everyone's problem. When women in all socio-economic classes read, they help by reducing anxiety over misinformation, raising young boys and girls to be courageous and do the right thing. If they have information and the ability to understand the value of science and peer-reviewed articles, or history and how it tends to repeat itself, they will do the right thing.
Samar's response: I am living proof of how reading, literature and education can influence a person's opportunities and career. I support this idea because I firmly believe that a girl who reads is one to watch out for.
'School children should help street children' - Madhumita, Mumbai, India
Encourage school children to educate street children over weekends and vacations. Make it part of the curriculum or add percentage points [to grades] for work done in this. Provide incentives so children will do it. A large percentage of street children are girls.
Samar's response: I like this idea because it puts the most underprivileged girls under the spotlight. When we talk about girls and women, we often forget the ones who are the most in need.