100 Women: Your ideas on improving public safety for women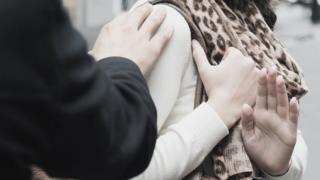 During this year's 100 Women challenge, our team is tackling harassment in public spaces - and asking our readers how to fight it.
This week, Yasmine Mustafa, a technology entrepreneur and one of the BBC's 100 Women of 2016, has been reading your ideas on how to improve women's safety.
Yasmine's family fled the first Gulf War, and after numerous immigration problems in the US, she eventually graduated from university and founded her first startup. Her latest venture, Roar for Good, is a smart wearable safety alarm.
Here are some of her picks from our readers' ideas on how to improve safety and fight against street harassment.
'We need to detect repeat offenders' - Jess, San Francisco, USA
I direct the tech non-profit Callisto. We created an online sexual assault reporting tool. Among other things, this tool helps detect repeat perpetrators, who commit 90% of sexual assaults.
[Sometimes] a victim only wants to report if they know they aren't the only victim of a given perpetrator. They can hold a record of their assault in our escrow and then release it in event of a match with another victim.
I think a tool similar to ours could work for sexual harassment as well - helping to detect serial harassers and lowering the risk of reporting for any given victim.
Yasmine's response: "I really like this idea for a variety of reasons. Only 3% of rapists ever go to jail and 90% of rapists are serial rapists. This platform provides an option for survivors who too often don't receive justice and it increases the possibility of finding serial perpetrators."
'I wish there was an app to find help' - Jennifer, Hamburg, Germany
Recently, I was followed in the train station by a man who insisted on harassing me. With the language barrier I have being an American in Germany, I wasn't confident in my ability to make him go away.
Nothing transpired, other than 30 minutes of discomfort.
[But] I wished there was an app to find someone willing to help... something I could wordlessly activate and get help, whether from law enforcement or from background-checked volunteers - or even paid people who would come and get me to safety.
My daughter's university has a program called safewalks... a student can call or text to get walked home. My idea is something like safewalks meets Uber.
What is 100 Women?
BBC 100 Women names 100 influential and inspirational women around the world every year. In 2017, we're challenging them to tackle four of the biggest problems facing women today - the glass ceiling, female illiteracy, harassment in public spaces and sexism in sport.
With your help, they'll be coming up with real-life solutions and we want you to get involved with your ideas. Find us on Facebook, Integral and Twitter and use #100Women
'Extend the definition of street harassment' - Sinéad, Dublin, Ireland
I have achondroplasia - I am a little person and am 3ft 5in tall. I experience harassment in public spaces on a daily basis. Strangers on the street will use offensive language, will point, stare, laugh and enter my physical space - but also will take photos of me and upload them to social media to cash-in on the online currency of trauma and harassment.
I visit schools and workplaces... I use my personal narrative as a stimulus to compare the treatment of minority voices in public spaces.
The aim is to challenge the next generation, and to arm them with the appropriate terminology before they are conditioned by society.
I also work with An Garda Síochana - Ireland's policing service - to address the irregularities in the legislation surrounding hate speech and hate crime... to challenge their biases and to extend their definition of street harassment to support disabled and minority voices.
Yasmine's response: "Storytelling has the power to inspire, humanize, and connect. It provides an opportunity to teach a lesson through an experience, instead of being told what to do which has been proven to have more impact. And education is what's going to make the biggest difference in decreasing harassment."
'A way to share a sense of unease' - Teresa, Paranaque City, Philippines
[My] idea is an app with two levels, where the first press means harassment and the second means imminent danger. When a woman is harassed, she turns on the app along with GPS.
Her pertinent information, like location and the option to call her, is sent out to other users. The app would also screen users - since stalkers could use the same information - using things like residence and place of work.
The information could also be sent to a nearby law enforcement office.
'Anti-harassment campaigns should be widespread' - Emma, Cardiff
There should be anti-street harassment campaigns, like the anti-drink driving or stop smoking campaigns on television. These should be championed by brands targeting bothh men and women.
You see some quite good stuff online - but you get the feeling it only plays in internet echo chambers.
'Teach values to everyone in society' - Joyce, Kenya
Join hands with lawmakers, to develop laws and policies that define what exactly amounts to harassment, and consequences for it.
Join hands with the legal and court systems to implement these laws and policies. Teach women about their rights, and the process of seeking redress when harassment occurs.
Teach values in every sphere of society that condemn the harassment of women, as well as encourage protective and respectful attitudes towards women by every member of society.
Yasmine's response: "I like how this was focused on educating society instead of putting the onus on women to change their behaviour. Teaching respect and empathy is what's going to decrease harassment and attacks against women. In fact, there's a direct correlation between empathy and reducing violence. I also like how it combines developing laws and policies to punish the perpetuator."
'A device that alerts others to the harasser' - Charlotte, Lee Green, London
A way to tackle harassment in public spaces could be to create a small device for women to carry around, such as a button which alerts the police and sends her location if needed.
Another feature could be to press a button which lets out a loud sound - or maybe an embarrassing phrase for the harasser and to alert others that they are in the area.
There could even be a feature for capturing pictures or video so that the harasser can be caught more easily - these could be sent directly to the department tackling public harassment.