Secret engagement: 'We eloped and sent out postcards'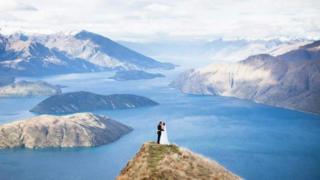 Why would couples keep their engagement and even their wedding secret from friends and family?
Some would find it hard to believe, but for Kristy Rousseau from Ontario, Canada, it was probably the best decision she and her partner made.
"We travel a lot and preferred to spend money on marrying on a mountain top in our favourite place instead of a big traditional wedding," Kristy told the BBC.
She and her husband Corey, who had been together for seven years, secretly got engaged so that their friends and family would not discover their plan to elope to New Zealand.
In the run up to her wedding, Kristy found it hard not to wear her engagement ring. On her birthday, just two weeks before flying to New Zealand, she wore it out to dinner and nearly let the secret out.
They almost managed to tell no one, as Kristy explains:
"Corey had to tell his boss [about the elopement] because he was recruited to a new company and needed the time off. Some of his co-workers thought he was in rehab!"
As their big day approached, the couple flew to New Zealand, took a helicopter ride to the mountains, and enlisted the help of the pilot as the best man and a photographer as a witness.
Having been a bridesmaid and maid of honour three times before getting married herself, Kristy saw how wedding planning can be stressful.
She said: "I didn't want to ruin what is meant to be the happiest day."
So, they got married, took photos and sent home postcards. Kristy said everyone was happy she and Corey had finally tied the knot although her mother was a little disappointed she was not there to witness her only daughter's big day.
However, Kristy wanted her day to be about her and Corey: "Ultimately, we wanted it to just be something personal between the two of us."
By Sherie Ryder, BBC UGC and Social News team