100 Women: Your ideas to tackle inequality in sport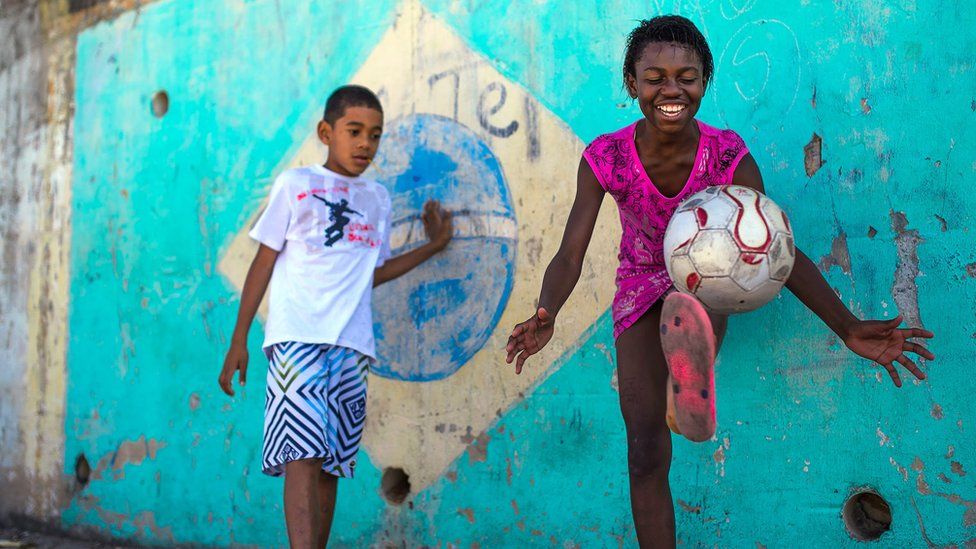 Professional sport can sometimes feel like a man's game.
As part of our 100 Women season, our team in Rio is taking on sexism in sport, and you've been sending in your ideas to tackle it.
Wales' first professional female rugby player and one of last year's 100 Women, Sian Williams, has picked some of her favourite suggestions.
'Keep it mixed gender until secondary school' - Richard, Swindon, UK
All youth sport should be mixed gender until at least secondary school age. This should cover not just training sessions, but competitive events as well. Each sport should propose appropriate age ranges for mixed-gender competition.
Fencing, for example, currently runs mixed aged groups if the numbers for one gender are low - but the final results are still split according to gender. This makes very little sense in my opinion for children up to, say, age 11 or 12, especially since fencing is a very skill-based and tactical (rather than primarily physical) sport.
Sian's response: I believe any sport that is non-contact should have the opportunity to mix. This enables a much bigger playing field, increasing the competition and growing the sport.
'Retaining interest in teenage years is the challenge' - David
As someone who grew up playing sport, and is now a father of three daughters, it is clear to me that getting them involved at an early age is easy - but retaining that interest throughout and beyond their teenage years is altogether more challenging.
Before adolescence, it seems that everyone is very keen for girls and boys to participate together, happy that it is all rather fun at that stage. As soon as they get a little older, there seems to almost be an expectation that the girls' interest will wane, and they will accept that serious sport is "for boys only".
This is an important issue on so many different levels, from the health of those involved, to our own behaviour and attitudes. People who play sport are much more likely to encourage their own children to get involved. Even if their involvement falls away at points of their life - because of university, family, or work - they will often resurrect the interest in later years.
Sport in general is played by amateurs, for the love of it. That should be the defining principle that guides us all when we try and encourage our sons and daughters to get involved. The fantastic facilities we now have due to lottery funding or other sources should be enjoyed by all, with equal opportunities, and every initiative should ensure that both genders are given the chance and encouragement to play.
Sian's response: There will always be a natural drop off of people who become uninterested in sport at different times of their lives, but it is important that there are equal opportunities in schools and universities, and at club level, to ensure this is kept to a minimum.
BBC 100 Women names 100 influential and inspirational women around the world every year. In 2017, we're challenging them to tackle four of the biggest problems facing women today - the glass ceiling, female illiteracy, harassment in public spaces and sexism in sport.
With your help, they'll be coming up with real-life solutions and we want you to get involved with your ideas. Find us on Facebook, Integral and Twitter and use #100Women
'Mix it up by alternating men's and women's matches' - Roberta, Dublin, Ireland
Mix the order in which games are played. For example, at the recent rugby sevens matches, all the men's matches were played first - and then the women's matches were played in the same stadium.
But once the men's game ended, a lot of the crowd left, and the women's matches had few supporters to cheer them on.
If the match order alternated between men's and women's games, then the spectators would stay, and fans would be watching on TV. More fans would watch the women's teams, and perhaps develop appreciation for women's sport. That would grow the fan base, and seeing it treated equally would also encourage more girls to take up the sport.
If some supporters of men's teams are not interested in watching or attending women's matches - because they incorrectly think it would be less entertaining, or the women are not as skilled - then scheduling women's matches in between men's fixtures would give the women the opportunity to prove their value and gain more fans.
Sian's response: I completely agree with this. I have heard of many people who watched the Olympics on TV, who were very surprised by the standard and intensity of the game and are now huge women's rugby fans- so it's important that the exposure of women's rugby is up there with the men's.
'Change the coaches' attitudes in mixed sports' - Gustavo, Genoa, Italia
A simple solution for me is to have girls play sports - yes, easier said than done. First, we must work on changing the attitude of male coaches of mixed teams, who often play only as many girls as are required.
It is rare to see a mixed Sunday afternoon football league match with 10 women on the pitch and three men waiting on the bench. If the rules say three women must play at all times, that is the maximum number of women you will see on the pitch.
Why not have 10 women play and make the men sit out? If coaches' attitudes change, we will see more of society change.
Sian's response: It's important that coaches pick their best players on playing ability and not sex. Having played rugby with boys until the age of 11, I found I had to work extra hard to prove to coaches I was good enough.
'Play women's matches at the same venues' - "F", Chelmsford, UK
Play women's football matches on the same day and at the same ground as men's football matches. When Arsenal's men play at home, Arsenal Women should play their game at the home stadium before or after the men's match. That way, supporters will already be there to support the women's team and will understand that women can also play what is often seen as a "man's game".
This will slowly engrain the idea of women's sport as an equal playing field (no pun intended).
Sian's response: This is very relevant to myself as my club rugby games have moved from a Sunday to a Saturday, the same day as the men play. Only two games into the season, I saw an increase in people coming to watch.
'Women can have sport as a career' - Rosemary, Nairobi, Kenya
This can be tackled by exposing more female participants to the idea that they can be involved in sport as a career. Show them examples of female athletes and coaches, or even go the extra mile and get them to meet some of these women in person.
Have more female coaches and more female presenters at sport events. Encourage sport teams and federations to have more flexible working and travelling hours for women with families, to allow them to still work and take care of their families.
Encourage more family involvement, as most women have children - so provide a more child-friendly environment. Encourage more female mentors - for both female and male athletes and coaches.
Sian's response: I believe there are more female role models out there now than there has ever been, but I also think we forget about those female coaches and referees who are at the top in sport too. These women should be inspiring role models too - because with out them, our sport would not be played.
'Small steps in scheduling for the long term' - Nigel, London
Equality in sport is an important influence on other areas in life - simply because it is seen as a positive way to express oneself. I always believe change occurs in taking small, positive steps to influence greater change in the long term - but sometimes, both can be achieved at the same time.
My suggestion is to alternate the men's and women's Wimbledon final on Sunday each year. I think that would send a statement that both finals are equally important. [Currently, the women's final is held on Saturday].
At the moment having the men's final on Sunday ever year says that it's the main event for the tournament. But in fact that's not true - in my opinion anyway.
I think alternating the finals each year would be another step in gender equality on the biggest stage of world tennis, and hopefully other tournaments and major finals would follow suit.
Sian's response: This would be a huge move for equality in sport. Andy Murray's correcting a journalist who claimed that Sam Querrey had become the "first US player to reach a major semi-final since 2009" was big in the headlines this year, so having both finals played on the same stage would make huge impact in the fight for equality in sport.