100 Women: Is the gender pay gap in sport really closing?
Valeria Perasso
Social Affairs correspondent, WS Languages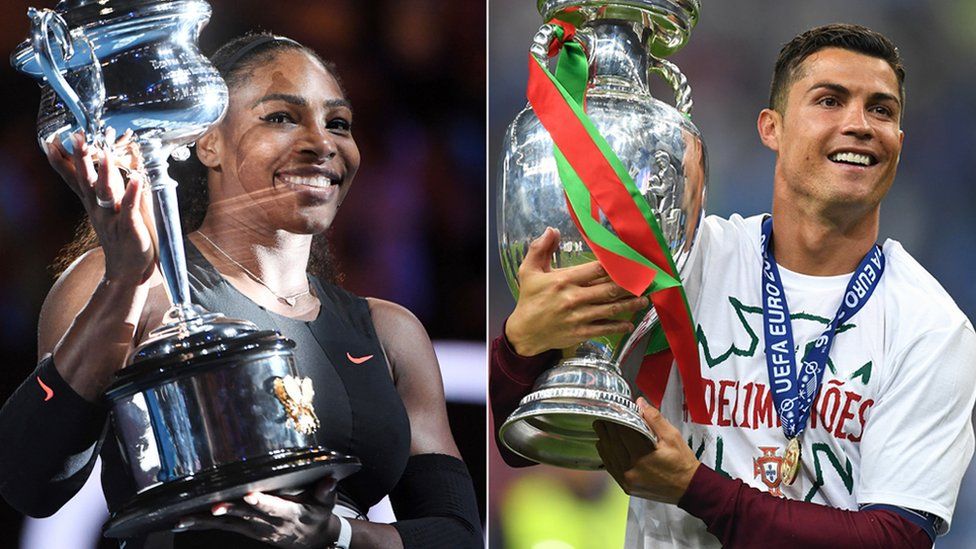 In the ranking of the 100 highest-paid athletes, there is just one woman - tennis star Serena Williams.
She's in position 51 and has an income that is $66m (£50m) lower than Cristiano Ronaldo's, the world's top earning sportsman according to Forbes.
For the US women's football team, their win in the 2015 World Cup got them a $2m (£1.5m) reward.
Meanwhile in the male version of the tournament, the winners were handed $35m (£26.5m) just a year earlier.
These are just a few examples of a massive gender pay gap in the world of global sports that has been the standard for decades.
Recent research, however, suggests that income disparity between female and male athletes has narrowed vastly over the past few years.
A total of 83% of sports now reward men and women equal prize money, according to a study of 68 different disciplines published by BBC Sport, last June.
It seems like good news, especially compared to previous years - in 2014 only 70% of sports had closed the gender prize gap, and as recently as 1973 not one sport rewarded both genders equally.
"Women are far more visible in sports today than at any previous point in history," says UN Women in a statement.
Yet the pace of change is so slow that it will take "a long journey" to reach pay parity at the top level, experts say.
"We are making progress, but it is happening at a glacial pace," says Fiona Hathorn, managing director of advocacy group Women on Boards.
"The sport world is very, very male dominated still and the disparities in some sports are shocking."
Cricket, golf and football are among the worst offenders, as well as darts, snooker and squash.
The global sport business - worth $145.3bn (£110bn), according to a PwC estimate- is far from a level playing field for both genders.
"I cannot think of any other industry that has such a wage gap, really. Depending on country context and sport, a man can be billionaire and a woman [in the same discipline] cannot even get a minimum salary," says Beatrice Frey, sport partnership manager at UN Women.
Differences are striking at every level of the multi-billion industry of professional football.
A recent study by Women on Boards highlighted that not only did the US women's team received prize money that is a fraction of the amount the men's game gets, female US footballers also received four times less than their fellow nationals in the male version of the tournament, even though the men lost in their first knockout match.
The gap becomes even bigger if the total payout is considered. The prize money in both tournaments is determined by a single body, Fifa, that handed out $15m (£11m) for the women's World Cup and $576m (£437m) for the men's - an amount almost 40 times larger.
And while former England captain Wayne Rooney took home a massive $400,000 a week (£300,000), the wages of his female counterpart, Steph Houghton, were meagre in comparison - around $1,600 (£1,200) a week, according to Ladbrokes Sports.
Similar pay gaps can be observed across other professional sports. In golf, men in the US Open compete for a chance to take home almost $1.5m (£1.1m), twice as much the prize money for the female champion.
Take the case of Lydia Ko, from New Zealand, who in 2015 became the youngest player of either gender ever to be ranked number one in professional golf.
That year, she pocketed less money than the golfer in position 25th in the male ranking of the PGA Tour, estimates by Newsweek reveal.
Meanwhile, in cricket a victorious male team at the World Cup can make almost seven times more than the women's side.
And the pay gap is replicated also in the world's most prestigious male and female basketball leagues - the NBA and WNBA.
"The highest-paid player in the WNBA (the Women's National Basketball Association) makes roughly one-fifth that of the lowest-paid player," in the super-rich NBA, calculates Newsweek.
To achieve equality, experts say, it is not enough that the governing bodies of each sport establish gender-blind prizes - sponsorship and endorsements, as well as contractual conditions, have become some of the main forces perpetuating the imbalance.
In tennis, for instance, the Grand Slams - the four most important events in the global calendar- have already introduced equal pay for men and women from 2007, yet the top male players consistently earn more yearly due to better sponsorship deals.
That is why Serena Williams is alone in the Forbes' list of the 100 richest.
"The top 100 athletes are a boys' club more than ever", wrote Forbes' sports reporter Kurt Badenhausen when the list was released, in June.
"Mainstay Maria Sharapova failed to make the grade after reductions in her endorsement contracts."
Those extras make up 29% of the total pie for the top 100 athletes, according to Forbes.
Ronaldo earned $58m (£44m) in salary and bonuses, but topped that up with some $35m (£26.5m) from sponsors, endorsements and appearance fees.
For golfer Tigers Woods and track star Usain Bolt, sponsorship account for over 90% of their earnings.
"Sexism is widespread from grassroots level to elite level in the sport industry," says Frey.
"At grassroots level it may mean that girls are not able to participate in a sport that is not traditionally considered to be for girls, creating bias at an early age which then follows them through youth and on to elite sport practice."
Then, she says, it translates into uneven opportunities in sponsorships and personal marketing, to the extent that most female athletes around the world are "unable to secure a livelihood from their athletic practice".
And the trend persists after retirement.
"For retired sportswomen it is particularly problematic. Not only have they not ever earned very much money, they've probably got no pension, no house, no security," says Hathorn.
"And that's an issue for girls' aspirations: why would they want to become athletes if that's what the future holds?"
The roots of this discrepancy could perhaps be traced back to the origins of modern sport itself.
Different societies viewed physical training as an activity intrinsically linked to the "muscular male", defined against an idea of softer and more physically vulnerable femininity.
The father of the modern Olympic Games, Pierre de Coubertin, described women's sport as an "unaesthetic sight" for the human eye and considered their participation would make the competition "impractical, uninteresting" and "improper" (although a few female athletes were allowed to take part after 1900).
Women were only competing in races up to 1,500 metres, because they were deemed physically unprepared to cope with the demands of longer events.
In terms of representation, it took until the 2012 London Games to have at least one female athlete in every country's delegation.
So the sport pay gap may well be linked to a wider imbalance - that of female participation in sport, perpetually lower than that of males.
"The participation is a problem that goes back to the school years: that's when it starts," says Ruth Holdaway, chief executive officer at advocacy group Women in Sport.
It has to do with their awareness of the body, with how they are perceived and the gender stereotypes they encounter, says Holdaway.
UN Women statistics show that a striking 49% of girls drop out of sport by the time they reach puberty, and this has ramifications in professional and elite training later in life, research shows.
There is a general acceptance that the breadth of the gender pay gap is also a by-product of the increasingly commercial nature of sport, where media rights play a big part.
According to a study by the University of Minnesota's Tucker Centre for Research on Girls and Women in Sport in 2014, only up to 4% of sports media coverage went to female sports, despite the fact that 40% of all participants were female.
And within the small amount of airtime received, the coverage of women's athletics is also more likely to be sexualised, portraying athletes off court and out of uniform, with an emphasis "on their physical attractiveness rather than their athletic competence", says Tucker Centre's director Mary Jo Kane.
Hence, many would argue that women earn less because the market dictates so, as female sports are "less popular" and "not as good to watch", and as a result they generate less media revenue.
BBC 100 Women names 100 influential and inspirational women around the world every year. In 2017, we're challenging them to tackle four of the biggest problems facing women today - the glass ceiling, female illiteracy, harassment in public spaces and sexism in sport.
It is a self-perpetuating, "chicken and egg" cycle, equity advocators argue - audiences will not get excited about women's sport as it gets minimal exposure in the media, and the media would justify the lack of coverage by saying that female athletics do not generate enough audience engagement.
"That is not a fair argument, you have to invest first at many levels, including marketing and promotion, to get the general public more involved, and then the return of the investment will be better," says Frey.
"Had our culture been used to seeing women rather than men playing rugby or football for generations, we would find the idea of men playing sports rather novel," adds Hathorn.
Sport gaps are in fact a manifestation of wider gender inequality, says the expert, that also translates into other more subtle forms of sexism.
For example, women footballers in international tournaments were required until recently to play on artificial turf, which is often regarded as of lesser quality than the natural grass on which male teams play.
And then there's the language: "the World Cup is assumed to be for men, while women require the qualifying 'Women's' to describe their event", says a UN document on women in sport.
Despite the "glacial" pace, change is nonetheless advancing and indicates that the gap is getting narrower.
Tennis is usually celebrated as a shining example of this, after all four Grand Slam tournaments established equal prize money to the men and the women in 2007.
In fact, the process started in 1973 at the US Open, thanks to world champion Billie Jean King and other female players, who founded the Women's Tennis Association to fight for gender equality.
Athletics have also become a case study for good practices, particularly over the past five years, with the International Amateur Athletic Federation (IAAF) World Championships and annual Diamond series offering gender-blind rewards.
Other sports that have reportedly been paying equivalent prizes include skating, shooting, volleyball, diving, sailing, windsurfing and taekwondo, as well as some cycling events.
The appetite for televised female sports is also growing, evidence suggests, with social media playing a part to increase the global popularity of athletes regardless of gender.
And sportswomen themselves have repeatedly stood up against sexism.
Last year, for instance, five of the biggest names in the very popular US women's football league filed a complaint against their employer, the US Soccer Federation, for gender pay discrimination, while the hockey team attempted a boycott in search for fair wages.
But a lot more work needs to be done, advocacy groups say.
To begin with, more women are needed in decision-making positions.
A Women on Boards report found a widespread problem across disciplines, with fewer than 30% of board seats held by women in many governing bodies.
Women are just 18% of all board members across the 28 International Sports Federations assessed. In the 129 National Olympic Committees, the figure is even lower and has actually fallen - women are 16.6% of the board, down from 17.6% in 2014.
The root of the problem lies with how women engage with sport at an early age, experts say, and any attempt to tackle gender disparity in earnings and participation should seek improvements at school level.
Gender-neutral and non-segregated sport practice in school may have a positive impact on the way girls embrace physical activity in the long term and go on to consider a career as professional athletes.
"I would promote that boys and girls play the same sports from primary school, because at that stage there are no major physical differences between them. If within the education system children start to play sports together, it would make a real difference in society," says Hathorn.
"If we are closing the gap in the long term, we should really be working with young girls to help them change their behaviour, understand that sport is fun and it's something they are entitled to just as much as the boys," says Ruth Holdaway.
A change in the model of commercial endorsements and sponsorships is also an important step in the path to pay parity.
There is an untapped market for the promotion of women's events and experts believe it is actually not just fair in principle, but also a good investment.
"It is not a matter of charity, it is a matter of smart business decisions," says Frey.
"Corporations are now very interested in gender equality, if I were a company sponsoring for example the Premier League I would be asking myself 'is this the right image for my company?', 'is being too bloke-y dangerous for my brand?'", says Hathorn.
"'We have 50% of our clients who are women but we spend 99% of our money on sponsoring men's sports, is that right?' It clearly isn't".
Ultimately, experts agree, a cultural shift is needed - in which women are not seen as "second class athletes" as much as they should not be considered second class citizens in society.
"Even with Billie Jean King pushing for equality more than 40 years ago, we still do not have real equality in sport," says Hathorn.
"We are moving, but we are still not there."