What do the videos Trump retweeted actually show?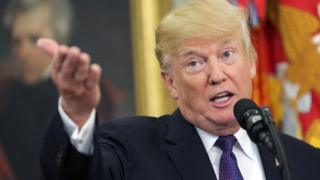 US President Donald Trump has retweeted a series of inflammatory videos posted by Jayda Fransen, the deputy leader of the far-right group Britain First.
All three posts supposedly show Muslims acting violently, and were retweeted by Mr Trump in quick succession.
But do these videos show what they claim?
The first one purportedly shows a "Muslim migrant" attacking a young Dutch man on crutches.
The video seems to have been shared on the Dutch photo- and video-hosting site Dumpert, whose branding can be seen in the top left-hand corner of the video.
However, the video was removed from the site in May 2017 at the request of the police and victim's family.
Unlike the other two, the claim in this tweet appears to have little substance.
Dutch newspaper De Telegraaf reported that police had made two arrests in connection with the video. The two men arrested were from Edam-Volendam and Monnickendam, in the north of The Netherlands.
A spokesperson from the Dutch Public Prosecution Service confirmed to the BBC that the person arrested for the attack "was born and raised in the Netherlands" and was not a migrant, as claimed in the social-media post.
The religion of the perpetrator is unknown.
The second video retweeted by Mr Trump shows a man smashing a statue of the Virgin Mary.
This video was uploaded to YouTube in 2013 with a title in Arabic which translates as: "A terrorist destroys a statue of the Virgin Mary in Syria".
The man in the video is speaking formal Fusha Arabic, which makes it more difficult to identify his nationality.
However, the New York Times identifies the man as the extremist Islamist cleric Abo Omar Ghabra, speaking in the Idlib province of Syria in 2013.
The New York Times also points out the destruction of religious iconography "has long been condemned by the wider Muslim population".
In the video, the cleric can be heard saying: "No-one but Allah will be worshipped in the land of the Levant," which would tally with claims he was a member of militant Islamist group al-Nusra Front.
The third video retweeted was shared with the words: "VIDEO: Islamist mob pushes teenage boy off roof and beats him to death!".
The graphic video originates from the 2013 clashes between supporters and opponents of the ousted Egyptian president Mohammed Morsi.
The video shows Hamad Badr,19, being pushed from the top of a building in the Sidi Gaber district of Alexandria. He later died in hospital.
In 2015, Mahmoud Ramadan, who can be seen in the video wearing a black flag, was hanged for murdering Hamad Badr.
By George Pierpoint, UGC and Social News