Why one man in South Africa challenged homophobia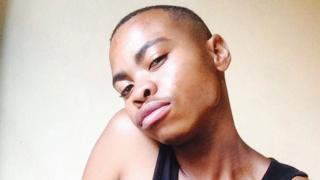 When the question "What will you do if your son comes out as gay?" led to viciously homophobic comments online, one man, Oratile Keith, decided to act.
Twitter user @OnimoleOfLagos had posed the question last week, prompting abusive and threatening comments in response.
"This is why we commit suicide," replied Oratile, who is 21 and a student and fashion stylist in Johannesburg, South Africa.
"I wanted to highlight that this is the type of abuse that leads LGBT people to suicide - when we say we face problems, we are not looking for attention," Oratile told the BBC.
Rates of suicide are high among LGBT communities globally, according to the World Health Organisation.
You might also like:
Oratile explained he was motivated to respond because he had recently been accused of over-reacting when telling a friend he struggled with discrimination in South Africa.
The country legalised same-sex marriage in 2006, but Oratile said LGBT people still faced serious problems, including murder and rape.
"Most of those abusive tweets were from Nigeria, but people all over Africa don't take LGBT issues seriously," he said.
"Here in South Africa, people think it's all been sorted now we have the same marriage rights, but that's not the case. We get no support.
"It's not uncommon to hear people suggesting correctional rape for gay people.
"Often, when an LGBT person comes out to family, he or she is told, 'Either be normal or you leave my house.'
"That makes people think that ending their life might be better than losing their home and family."
"By tweeting, I was saying this is a real issue - I wanted to show what's really going on. This is the first step in educating people," Oratile said.
His tweet has been widely shared, with more than 28,000 people retweeting it, and many describing their shock and solidarity.
Some people shared their own experiences of coming out to family.
"This is crazy! My mum told me she would rather see me dead than out! My response was, 'OK!' I stayed true to myself, now she doesn't care and she loves me even more!" wrote Jean @xoxomoon_delRey.
Others described the impact of feeling rejected by family members for their sexuality.
"This is so sad. My little brother, 19, came out and my dad flipped out. My mum and I knew since he was two. But it hurts him that his dad doesn't want to speak to him. He cried and asked why he wasn't normal. It broke my heart. It's 2018 and people need to be more understanding," one woman wrote.
And others said they loved their children no matter what.
"Me and my boyfriend are LGBTQ+ allies. I'm bisexual and he's supportive of the community. So if our future kids decide to come out or not, we'll be ready with open arms and with even more love," one woman @What_ami_th0 wrote.
"I wouldn't expect him [her son] to come home and say, 'Hey Mum I like girls,' he would just bring a girl home, so I will raise him to know he can bring anyone home, through that door, that treats him with love and respect no matter what," another woman, Charlotte, wrote.
By Georgina Rannard, UGC & Social news