Winter Olympics 2018: A guide to Africans competing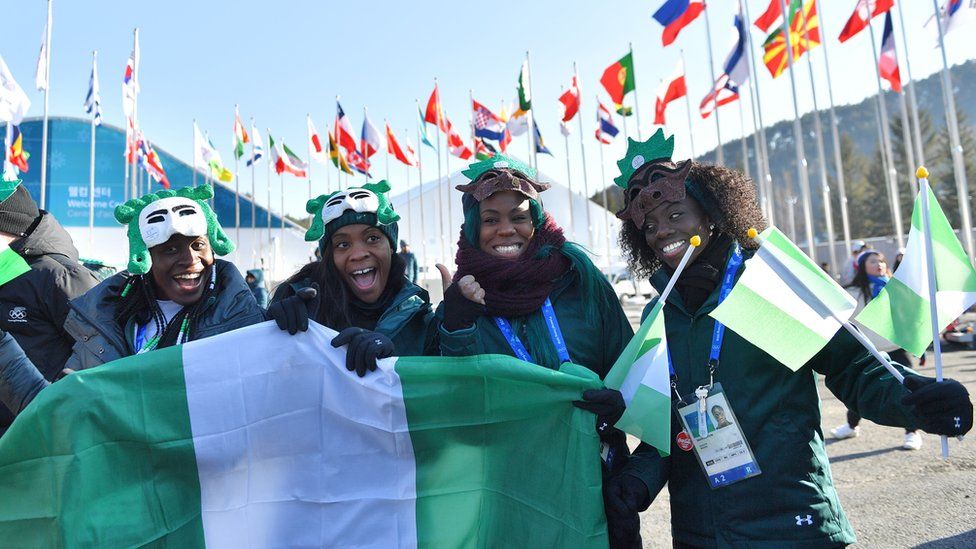 Eight African countries will be competing at the 2018 Winter Olympics in Pyeongchang, South Korea.
As one of the world's hottest continents, Africa lacks the climate for winter sports such as skiing, bobsleigh and snowboarding.
But despite this disadvantage, competitors from a record number of nations (Nigeria, Eritrea, Ghana, Kenya, Madagascar, South Africa, Morocco and Togo) will be represented at Pyeongchang 2018.
It is history in the making for countries like Nigeria and Eritrea, who are making their debut at the Winter Olympics.
With our interactive guide to all the Africans competing in Pyeongchang, you can find out more about each athlete by clicking on their pictures below:
Akwasi Frimpong

Age:

31

Country:

Ghana

Sport:

Skeleton

Akwasi Frimpong founded Ghana's national Bobsled and Skeleton Federation (BSF-Ghana) in 2016.

Frimpong used to be a sprinter but an achilles injury forced him to take up another sport. 

It takes about four to six years to actually really become very competitive and learn the sport because it goes so fast your brain can't even catch up to it.

Sabrina Simader

Age:

19

Country:

Kenya

Sport:

Alpine Skiing

Simader, whose family moved to Austria when she was three, is the first alpine skier to represent Kenya at the Winter Olympics. 

She became a competitive skier in 2013. In 2016 she represented the East African nation at the Winter Youth Olympics in Norway.

Kenyans are really impressed. They have been really supportive and that gives me power.

Mialitiana Clerc

Age:

16

Country:

Madagascar

Sport:

Alpine Skiing

Mialitiana Clerc learnt to ski at the age of three in France. She turned 16 on November 16, 2017 making her one of the youngest athletes at the games.

Samir Azzimani

Age:

40

Country:

Morocco

Sport:

Cross-Country Skiing

Samir Azzimani previously competed in alpine skiing before switching to cross-country skiing. 

Adam Lamhamedi

Age:

22

Country:

Morocco

Sport:

Alpine Skiing

Moroccan-Canadian Adam Lamhamedi made history when he became the first African to win gold at the Winter Youth Olympic Games in Austria in 2012. 

Moriam Seun Adigun

Age:

31

Country:

Nigeria

Sport:

Bobsleigh

Seun Adigun found Nigeria's first Bobsleigh team. She is the driver of the team. 

The former track and field athlete competed in the 100m hurdles at 2012 Summer Olympics in London. 

It's surreal . . Nigeria have never had anyone in the Winter Olympics and they're excited to see that happen.

Akuoma Omeoga

Age:

25

Country:

Nigeria

Sport:

Bobsleigh

Akuoma is the "brakewoman" of Nigeria's first ever bobsleigh team. 

She also works in healthcare recruitment. 

Ngozi Onwumere

Age:

26

Country:

Nigeria

Sport:

Bobsleigh

Ngozi Onwumere is a track and field athlete who had previously represented Nigeria in the 2015 All African games.

Simidele Adeagbo

Age:

36

Country:

Nigeria

Sport:

Skeleton

Following a nine-year break from competitive sports, Simidele Adeagbo was inspired by the Nigerian Bobsleigh team and decided to become a skeleton athlete. 

Adeagbo is the first Nigerian to compete in this sport at the Winter Olympics. 

Connor Wilson

Age:

21

Country:

South Africa 

Sport:

Alpine skiing

Connor Wilson studied to be a vet at the University of Vermont in the US.

Mathilde-Amivi Petitjean

Age:

23

Country:

Togo

Sport:

Cross-Country Skiing

 Mathilde-Amivi Petitjean was previously a member of France's junior cross-country ski team, before switching to represent Togo, the country where she was born.

Alessia Afi Dipol

Age:

22

Country:

Togo

Sport:

Alpine Skiing

Despite having no familial ties to Togo, Italian-born and raised, Alessia Afi Dipol chooses to represent the West African country.

The Alpine skier first competed under the Togolese flag at the 2014 Winter Olympics in Sochi.

Shannon-Ogbani Abeda

Age:

21

Country:

Eritrea

Sport:

Alpine skiing

Abeda grew up in Canada and wanted to be an ice hockey player, but his parents thought skiing would be a better sport for him. 

He's the first Eritrean to represent the country at the Winter Olympics.

I know it's not common for an Eritrean like myself to be a skier, but Eriteans are very patriotic people. When they see someone competing or representing Eritrea in a positive light, they're very happy
Photo Credits:
Matthias Hangst/Getty Images, Dimitar Dilkoff/AFP/Getty Images, Francois Xavier Marit/AFP/Getty Images, Shaun Botterill/Getty Images, Christophe Pallot/Agence Zoom/Getty Images, Alexander Hassenstein/Getty Images, ALEXANDER KLEIN/AFP/Getty Images, Dean Mouhtaropoulos/Getty Images, Courtney Hoffos
Visual journalists: Princess Irede Abumere and Olawale Malomo