100 Women: Why Galentine's Day is 'the best day of the year'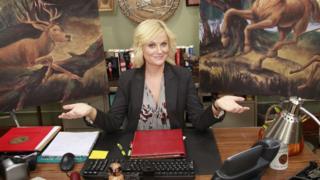 Galentine's Day - "it's only the best day of the year".
That's according to Leslie Knope, the main character in the US sitcom Parks and Recreation, who first invented Galentine's Day almost a decade ago.
Held on 13 February, one day before Valentine's Day, it was a chance for the female characters in the programme to get together and celebrate "ovaries before brovaries".
But Galentine's Day has since been adopted by the real world.
Now, friends - typically, but not always, female - mark the day by sending fond messages, meeting up and exchanging gifts; basically it's the friendship version of Valentine's Day.
And just like Valentine's Day, businesses have seen a chance to advertise and sell more of their products as a way for shoppers to show just how much they care.
A quick scan on social media shows cosmetic companies, travel agents and homeware retailers among many others, all marketing their products using Galentine's Day messages.
But while it's easy to be cynical about the businesses using Galentine's Day for commercial gain, many experts say friendships are crucial to our wellbeing.
One study published in 2016 suggested people with bigger social networks also exhibited signs of increased tolerance for pain.
Research from 2015 suggested friendship and positive feelings were linked, with these kinds of relationships being "a consistent and robust correlate of happiness among young adults".
Analysis of 148 studies into the effects of social isolation on mortality has been carried out by academics at Brigham Young University and the University of North Carolina.
The researchers were able to look at the lives of almost 309,000 people for an average of 7.5 years.
Their findings suggest those with stronger social relationships had a 50% increased likelihood of survival than those who lived more solitary lives.
But despite the proliferation of online social networks and charity campaigns, many people are struggling to make friends and form meaningful relationships.
Two thirds of UK adults feel they have nobody to talk to about their problems, a survey found earlier this month, while recent research from the Jo Cox Foundation suggests nine million people from the UK described themselves as "always or often lonely".
"Women are reaching out to each other more and more, and saying that our friendships are just as important as the relationships with have with our romantic partners, our parents, and our children," says Kayleen Schaefer, who interviewed more than 100 people for her new book Text Me When You Get Home.
"No matter if the women we depend on are the friends we've known since kindergarten or college, or as peons at our first jobs, or are new friends, we're looking to each other for support, which is a big shift from decades ago when women were told that they couldn't count on each other, that other women were catty or cruel.
"Women are looking around at their friends now, who they depend on for everything from secret-keeping to financial support, and saying, 'That's absolutely not true.'"
For Amy Poehler, the woman behind the character of Leslie Knope, female friendships are also crucial.
"It's easier to be brave when you're not alone," she has said.
"Almost like you're collecting an army of people who inspire you, lift you up and tell some good jokes once in a while."
What is 100 Women?
BBC 100 Women names 100 influential and inspirational women around the world every year. Find us on Facebook, Instagram and Twitter and use #100Women