100 Women: 'I live with my girlfriend but I'm not a lesbian'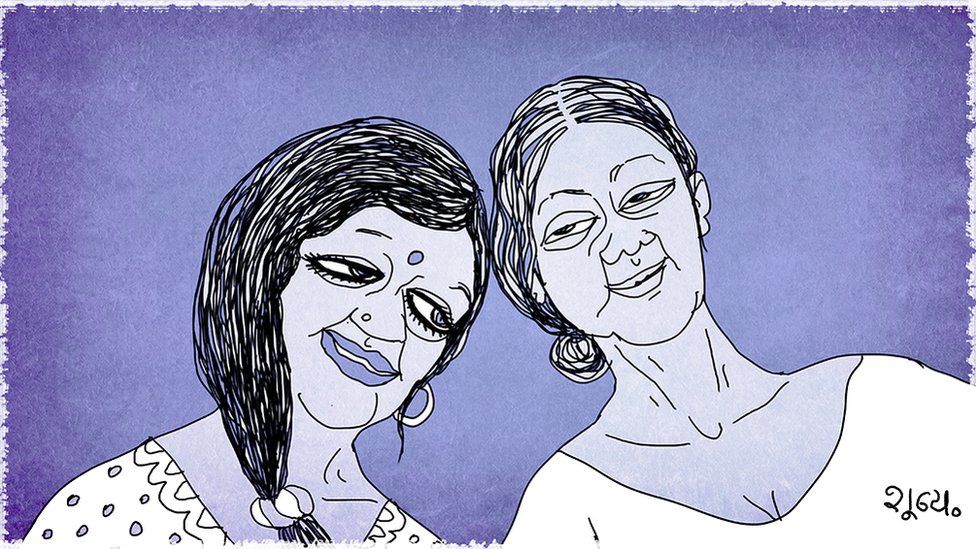 My girlfriend and I are not lesbians; there is no sexual attraction between us.
We are attracted to each other's ideas, thoughts and beliefs and that's why we have been living together in the same house for the past 40 years.
Both of us are in our 70s now.
When we decided to live together, we had just turned 30 and even at that young age, both of us yearned for a calm and stable life, rather than adventure.
This was the biggest reason that we decided to move in together.
We are quite different from each other.
I like flashy colours and love to use lipstick even at this age, but my friend prefers pale shades and pastels.
I wear sandals with high heels while she sticks to "doctor's slippers" all the time.
When I watch TV, she keeps herself busy with her mobile phone.
This is our life; some healthy banter and the complete freedom to live our lives on our own terms.
Modern day marriages might not be as open. There are high expectations and relationships often crumble under their weight.
My marriage also broke apart but that chapter of my life is in the past and I don't like to turn its pages anymore.
My children have grown up and moved on in their lives.
#HerChoice is a series of true life-stories of 12 Indian women. These accounts challenge and broaden the idea of the "modern Indian woman" - her life choices, aspirations, priorities and desires.
My friend believes in living alone and always has done. In some senses we are together yet alone.
The beauty of our relationship is that we still do not know each other completely.
People ask us if we get bored spending our lives just the two of us but in fact we hardly talk to each other.
We live under one roof but often we only meet at the dining table and then go on with our own work.
It's a habit we had when we were working and it has continued into our retirement.
In the beginning, our domestic maid used to be completely baffled. She would repeatedly ask if we had any relatives, if a younger person could come and live with us.
I didn't want to answer her questions, nor explain that we had lots of friends and relatives but living with each other was what we had chosen for ourselves.
She would say living without a man in the house meant we might be murdered or our house ransacked.
I used to laugh at her words and told her that we didn't own anything a thief would want to steal.
Looking at the grimly-painted walls of our house, a burglar would understand what kind of people lived here.
Every now and then she would continue to express her concern and disapproval of our way of living.
I still wake up with a peaceful mind. There is no mad rush in our life.
I never wanted to start my day with stress; instead I wanted to focus on myself every morning.
We didn't choose this life to avoid the responsibility of relationships.
When people meet us, they think that we have no responsibilities and a carefree life, but isn't managing one's own life independently responsibility enough?
We don't rely on anyone else for our needs.
At first, people thought there was something fishy about us living together, that there was something else between us.
Correcting other people's impressions of us, or giving any importance to them, is not a priority for me.
I wear "sindoor", toe rings, and a golden nose pin. I will continue to do so as long as my heart desires and when I am done with these, I will stop.
The one thing I learned in this relationship is that you can spend your life with anyone, but you can live your life only with someone who stays by you but does not interfere.
People find our well-balanced life very strange, but I wonder why.
We are two friends living on our own. We don't ask for much from anyone. We are content in our own lives.
This is a true life-story of a woman who lives in northern India as told to BBC reporter Bhumika Rai, produced by Divya Arya. The woman's identity has been kept anonymous on request.
Other stories you might like: