100 Women: 'I'm unmarried - that's why you don't have a father'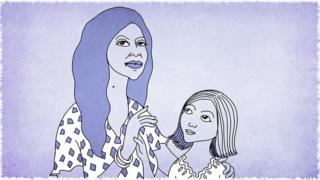 My seven-year-old daughter is like any other young child, happy, carefree and curious.
Often, she asks, "Aai (mother), why don't I have a father?"
I decided to stay single and always reply with that truth: "I am unmarried and that's why you don't have a father."
But I don't think that answer satisfies her. My daughter is adopted and joining a family where there is a mother but no father may have confused her.
One day, when she was five, she said: "Aai, you told me that when boys and girls grow up they get married. And then they have a baby.
"My birth mother must be married to someone. Don't say that I don't have a father."
I burst into tears at how inadequate my response must have felt to her.
For her this was simple logic. A five-year-old girl had found her own answer to her question.
#HerChoice is a series of true life-stories of 12 Indian women. These accounts challenge and broaden the idea of the "modern Indian woman" - her life choices, aspirations, priorities and desires.
She keeps saying, "Aai, get married…"
I explain, "It's not that I don't want to marry - someday I may. But only if I meet a person who can understand me and who can understand you."
When she grows up and asks me this question again, my answer will be the same.
Being single is not painful in any way. I enjoy the journey of being a single parent to my daughter.
I don't hate men, I respect them a lot and my daughter is learning the same from me.
Around 20 years ago, when I was of marriageable age, in my community most people ran businesses and hence boys were not highly educated.
Most so-called "educated" young men only cared about physical appearances.
I wanted someone who was well-read, had strong morals and would value me for the person I was, for my inner beauty.
I grew up in a rural part of Maharashtra in a conservative family.
Like many Indian girls, I was nobody in my house. My opinion did not matter.
My father supported me in getting higher education, a rarity in our community then, and I also got well-paid jobs. I was a confident person.
As life went by, I realised I valued an independent life.
Marriage, which is the most important decision in anyone's life, had to be mine and mine alone. Why should someone else determine my life?
I felt I didn't really want a man or a husband as a companion in my life and so I remained single.
My parents made peace with it.
Nothing would have changed if I hadn't started working with orphaned children as part of my company's corporate social responsibility programme.
Teaching, playing, just spending time with children was sheer joy and I yearned for more.
There were boundaries and it was painful to keep a distance from the children.
That's when I thought of adoption, but I had many questions.
How would the child bond with my family? Would I be a good single parent? Could I really look after and raise the baby alone?
It's a conversation I had with myself for two long years and even after I had made the decision to adopt a girl, I felt unsure.
I spoke to my friends, took a deep breath and wrote down the issues that were bothering me.
It all came down to the responsibility of being a single parent and I realised how important my friends and families' support would be for this.
The day my daughter - a six-month-old beautiful bundle of joy - came home, it felt like a festival. About 50 people were there to welcome her, a first for that adoption centre.
After she came home, all my doubts melted away. She became a beloved grandchild and I became a confident single parent.
Eventually I decided to move out of my parents' home and live independently. The bond between us became stronger.
I never think that I am not her "real" mother.
Despite all the questions about her father, my child loves me a lot and tells me often that I am the "best mother" ever.
When she sees me working, she says, "you are my father now" and that's invaluable for me.
Life is not easy for an adopted child and we are both learning how to answer the insensitive questions we are sometimes asked.
For all these complexities, there is a lot of simple joy and love in our life.
My sister was inspired to adopt a baby girl herself.
Adoption has become a very central part of my life. I now counsel parents and children in the process of adoption.
My daughter doesn't like to go to school so I have started home-schooling her.
I want to help her make her own decisions; it's something I didn't have always have in my life and I value it deeply now.
If she tells me that she wants to go to school, I will take her.
I am not lonely; I just love to be alone. But I enjoy my life the most when I am with my daughter.
Based on Sangita Banginwar's interview with BBC reporter Prajakta Dhulap, produced by Divya Arya
What is 100 Women?
BBC 100 Women names 100 influential and inspirational women around the world every year and shares their stories. Find us on Facebook, Instagram and Twitter and use #100Women
Other stories you might like:
I divorced my husband because he couldn't satisfy me
I live with my girlfriend but I'm not a lesbian