100 Women: 'Sorry! I'm not a wife or a mother for the next 10 days'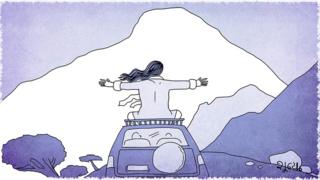 Have you ever been to Spiti? That remote valley in Himalayan north of India, sparsely populated with poor mobile connectivity?
It's isolation is why I went there, so I could be free and absolutely independent.
We were two young women and a driver. I still remember that night, when our driver offered us "country liquor" in a paper cup.
Thankfully, we tasted that bitter poison because what fun it was.
Unbelievably for a middle-class married woman in her early 30s, I was in unknown terrain with unknown people, away from home and the watchful eye of my husband.
#HerChoice is a series of true life-stories of 12 Indian women. These accounts challenge and broaden the idea of the "modern Indian woman" - her life choices, aspirations, priorities and desires.
My husband and I are artists and we often travel but when we go away together, he thinks of me as a responsibility.
All the decisions about transport, time, stop-offs, hotels and safety are taken by him. He asks for my opinion but it's mainly to get support for the decision he has already made.
He checks the hotel room first before I enter, he holds the menu first and asks me what I would like to have.
From locking the door of the room to carrying the luggage he takes the lead in everything.
After I had my son, my work and travel was restricted but my husband carried on as he always had done.
That's when I decided to go out, by myself, while my husband stayed at home with our son.
The first journey without him was a well-planned trip but he would message or call me every two to three hours to ask questions.
Where was I? Was there a lot of traffic? Did I check this? Did I see that?
I know he was concerned for my safety but I was fed up. It felt like I was being watched.
That's why I started looking for places where there was no mobile coverage.
Calling home and having to ask questions about whether my husband has had lunch or my son has done his homework, is certainly not my idea of travelling for pleasure.
It is true that I'm a middle-aged, middle class, married mother but is that my only identity?
There was a parent-teacher meeting at my son's school while I was away on a trip to Bhutan.
Other mothers seemed surprised that I had "left him alone". He laughed, but it didn't seem funny to me.
The idea of a woman travelling for pleasure without her husband seems odd to many people, including our own family.
My mother-in-law found it weird when I decided to go on a trip for the first time but my husband explained it to her and she backed down.
My own mother is yet to come to terms with this concept of "me time".
"What kind of mother are you?" she asked me last time I went away.
"How can you just leave that little chap behind and roam around? God knows how he feels, neglected by his mother. I don't know how your mother in law let you out."
I don't think she disapproves but perhaps the fear of what people will say is bigger for her than my need for "me time".
I travel alone in search of myself. I do care about my family, but I care for myself as well. When I travel alone I take care of myself.
I stay safe and yet I am adventurous.
That Spiti valley driver who offered us alcohol was a handsome man and I had fun chatting and drinking with him. How well he sang those pahadi [folk] songs.
These experiences and these people are the real world.
To meet them, you definitely need to stop being a wife and a mother - at least for a few days.
This is a true life-story of a woman who lives in Western India as told to BBC reporter Arundhati Joshi, produced by Divya Arya. The woman's identity has been kept anonymous on request.
What is 100 Women?
BBC 100 Women names 100 influential and inspirational women around the world every year and shares their stories. Find us on Facebook, Instagram and Twitter and use #100Women
Other stories you might like:
I divorced my husband because he couldn't satisfy me
I live with my girlfriend but I'm not a lesbian