Reality Check: Are ships more polluting than Germany?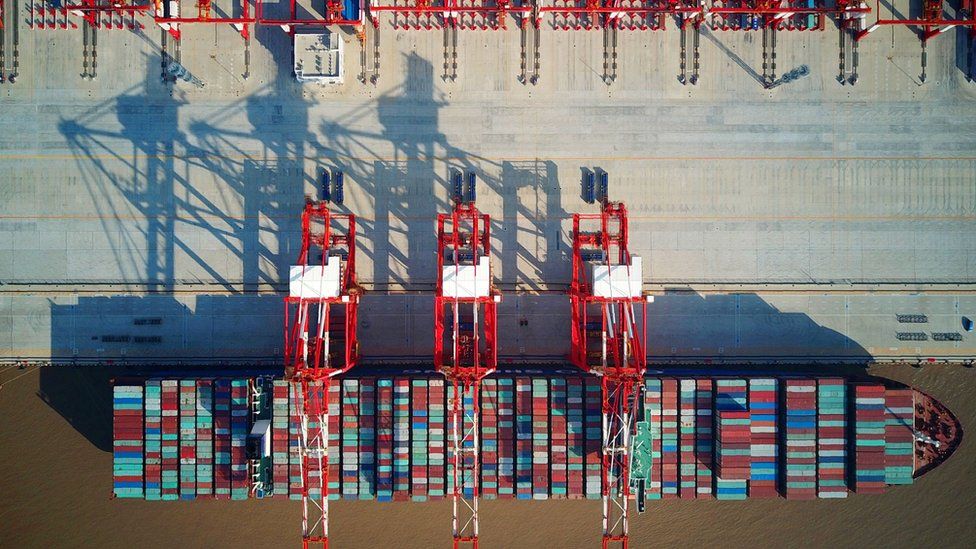 The shipping industry is meeting in London to formulate a plan to reduce greenhouse gas emissions.
By some estimates, the international shipping industry produces as much carbon dioxide (CO2) as Germany.
Reality Check looks at the data behind this comparison and from where all this pollution is coming.
Engines on the world's biggest ships can be as tall as a four-storey house, and as wide as three London buses. So a lot of fuel is required, which in turn creates a large amount of CO2.
Carbon dioxide is an example of a greenhouse gas. The greenhouse gas effect is the process of gases like CO2 trapping warmth in the atmosphere and heating up the planet.
International shipping accounts for about 2.2% of all global greenhouse gas emissions and 2.1% of CO2 emissions, according to the UN International Maritime Organisation's most recent data.
Germany's CO2 and overall greenhouse emissions account for about 2.2% and 1.9% of the world's total respectively, according to European Commission's most up-to-date figures - about the same percentages as the international shipping industry.
A country by country comparison can also be used as a device to demonstrate the scale of pollution in the shipping industry.
According to the International Council on Clean Transportation (ICCT), an independent environmental research organisation, international shipping produced 812 million tonnes of carbon dioxide in 2015.
The ICCT said that if treated as a country, international shipping would be the sixth largest emitter of CO2 in 2015.
They pointed to a list of the top polluting countries compiled by the PBL Netherlands Environmental Assessment Agency, part of the Dutch Ministry of Infrastructure. Public Works and Water Management, which puts international shipping as the sixth largest emitter of CO2.
The ICCT and Environmental Assessment Agency research both focused on CO2 produced by energy use and the ICCT said it removed domestic and fishing vessels, which would be covered by a country's own count of emissions.
The IMO is also addressing the amount of sulphur in fuel oil used on board ships. It says a reduction in sulphur oxides that emanate from a ship should have significant environmental health benefits.
The World Shipping Council, an industry body, also says it is engaged in efforts to reduce CO2 and is "working to secure a global agreement addressing CO2 emissions from ships through the International Maritime Organization".
International shipping is a catch-all term for shipping between ports of different countries and so excludes domestic transportation. There are many different types of vessels and each produces different levels of CO2.
The largest producers according to the ICCT are the biggest vessels; container ships, followed by the bulk carrier and the oil tanker. Container ships account for about one fifth of all emissions.
However, modern ships are designed to slide through the water more efficiently than older ones or are built to operate at lower speeds to save fuel.
For example, the largest of the Maersk container ships are reported to be 35% more fuel efficient than older, smaller vessels, according to Marine Insight.
Battery power is already being used on some ferries in Scotland and Norway and there are more radical Japanese plans for hi-tech sails to power cargo ships, says the BBC's science editor David Shukman.
It is common for a ship to be registered under the state flag of a country that is different to the country of the ship owner.
It's a process called flags of convenience and allows ships to sail under the maritime regulations of the flag they are registered under. On offer is access to cheaper labour and low taxes.
Many of the world's ships sail under the Panamanian flag and most of the world fleet sail under the flags of developing nations, according to the IMO.
The top five ship-owning countries are Greece, Japan, China, Germany and Singapore.