Does LeBron James really have a photographic memory?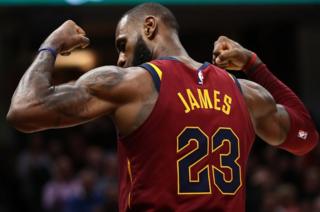 LeBron James is widely cited as the best basketball player in the world.
He certainly has the fattest bank balance, earning $86.2m (£66.79m) in the year to June 2017 according to Forbes. And now fans are speculating that he may have another hugely enviable attribute: a photographic memory.
Eyebrows and speculation rose after James gave a scarily precise account of what had happened in the fourth quarter of a game between his team, the Cleveland Cavaliers, and the Boston Celtics.
The answer was so good that the jaded sports hacks who witnessed it responded with a round of applause.
Twitter observers marvelled at the b-ball behemoth's play-by-play description, calling him "a brilliant basketball mind".
But does James really have a genius-level memory, or is something else in play here?
Joe Stone is a senior lecturer in skill acquisition and performance analysis at Sheffield Hallam University's academy of sport and physical activity. He told the BBC James's incredible recall is actually "quite normal" for elite sports players - and amounts to fine-tuning of the brain.
"The original research was with master chess players in the 70s, looking at how they can recall or recognise patterns of play," he says. "And then sports expertise researchers caught on to that and moved it into the sporting domain to see if sportspeople can do that. So that was first done in the 1980s in basketball.
"Through lots of domain-specific practice - through the basketball players practising a lot - they build up these really specialised and refined knowledge structures in their memory. And then that allows them to predict or anticipate play."
So does this mean James has total recall when it comes to birthdays or pub quizzes? Dr Stone reckons not.
"It's very domain-specific. They might not have an expert memory for general knowledge, but in that one domain they're really skilled at being able to recall information."
Veteran NBA journalist Chris Sheridan brought the basketball perspective, reminding us that James, now 33, has more than just practice on his side.
"LeBron James is unique in that he is the only person in human history who does not age as he gets older," he says. "There is no discernible drop-off in his skill level. Quite the contrary, his stamina and productivity go against the grain of what we witness - not just in sports, but in general.
"Whether it's something that happened 10 seconds ago, 10 minutes ago, 10 days ago, 10 months ago, 10 years ago... he's a student of the game. Not only on a day-to-day basis but also from a historical context.
"He is also a sponge when it comes to soaking up the information that's given to him by the team's assistant coaches, co-ordinators, nutritionists - everybody."
In other words, James is a workhorse as well as a genetic lottery winner. And it's all getting saved up for the next game - or future press conference showboating.
"LeBron is clearly paying very, very close attention," says Mr Sheridan. "And I think it's a testament to his intelligence that he's applying his ability to learn on such an efficient level."