Kate Spade: High school handbags and the New York City dream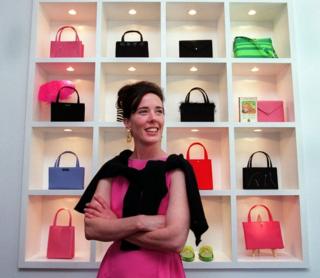 Millions of people across the world have flooded social media with tributes expressing their sadness at the death of renowned designer of clothes, shoes, jewellery and accessories, Kate Spade.
Hundreds of thousands of people have tweeted about New York designer Kate Spade - and nearly 70% were female.
About 57% of those users tweeting were aged between 18 and 24.
Young women shared memories of their "first Kate Spade" handbag, which for many came during high school.
'The first time I felt fashionable was that purse'
Owning a Kate Spade handbag was a must-have, rite of passage for many teenage girls, according to hundreds of women on Twitter.
Chelsea Clinton was among those who showed affection for the designer's work.
No stigma about mental health
Mental health and suicide prevention have been key subjects in discussions about the designer's death, with many Twitter users noting that money cannot buy happiness.
#katespade and Insta quotes
Thousands of people have connected worldwide on social media through the hashtag #katespade.
On Instagram hundreds of people shared inspirational quotes they attribute to the designer.
Timeless icon
But what most fans of the feminine fashion brand have found is that Kate Spade - and her colourful palettes and bright, bold designs - are timeless.