Reality Check: Which countries have military service?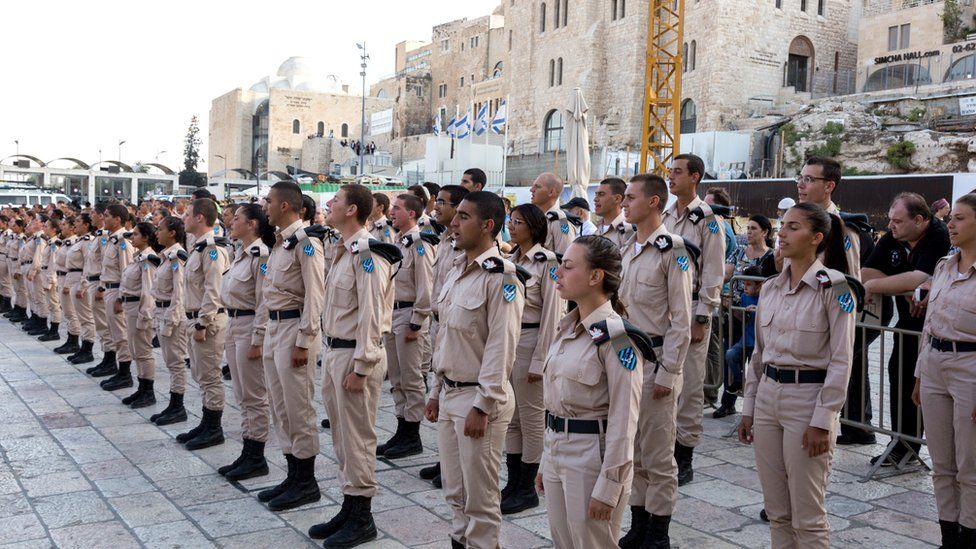 France is planning to reintroduce national service for all 16-year-olds.
The service will include a month-long placement focusing on civic culture and a voluntary three-month placement where participants are encouraged to serve "in an area linked to defence and security".
It was an idea first suggested by President Emmanuel Macron during his election campaign. He said he wanted French citizens to have "direct experience of military life".
Reality Check asks which countries around the world have military service?
Technically still at war with North Korea, South Korea has a strict system of national military service. All able-bodied males are required to complete 21 months of national service in the army, 23 months in the navy or 24 months in the air force. There are also options to serve in the police force, coast guard, fire service and in some special cases government departments.
However, there are exemptions for citizens that achieve sporting glory - winning a gold medal at the Olympics or at the Asian Games, for example.
The South Korean government has given one-off exemptions to athletes too - when the country hosted the 2002 World Cup and made it all the way to the semi-finals.
South Korea, despite beating Germany, won't repeat that feat at this World Cup. So the Tottenham Hotspur attacker Son Heung-min may still have to do his military service, unless he can help his country team win the Asian Cup, which starts in August.
North Korea is the country with the longest compulsory military service, 11 years for men and seven years for women.
Men and young, unmarried women in Eritrea are required to undertake 18 months of national military service. However, according to human rights groups, service is often extended for years and in some cases indefinitely.
Amnesty International in 2015 said: "Conscripts continue to be deployed in a range of civilian as well as military roles. The system therefore continues to amount to forced labour".
National service, according to the human rights organisation, is the main driver causing Eritreans to flee - many have sought asylum in the UK.
In Switzerland, military service is compulsory for men between the ages of 18 and 34. The country voted against scrapping conscription in 2013 (Austria did the same that year).
It was the third time the issue had been put to a referendum.
The basic service is 21 weeks long, followed by extra training annually.
Conscientious objectors can apply to enlist in a civilian service instead. Women are not subject to compulsory military service but they may enlist voluntarily.
Military service is compulsory for 18-year-old men. It lasts between 10 and 12 months. Exemptions are granted for health reasons. And if you are studying at university, service can be delayed.
Often, potential recruits are turned away because there are more 18-year-olds than the army needs that year. To get in, the young men take a series of mainly physical tests.
Soldiers receive a small salary, food and accommodation in barracks, which can be a big incentive for poorer Brazilians.
Military service in Israel is compulsory for men and women. Men serve in the Israeli Defense Force (IDF) for three years and women for about two years. It applies to Israeli citizens at home and abroad. Exemptions are granted on medical grounds, for new immigrants and some religious groups. In special circumstances, athletes may complete a shorter service.
Military service is mandatory for all Syrian men.
In March 2011 President Bashar al-Assad issued a decree to reduce the military service from 21 to 18 months.
State workers evading the draft may lose their jobs. And Amnesty International has said those fleeing military service have been jailed for 15 years.
Some countries have reintroduced conscription and military service in recent years.
In 2017, the Georgian ministry of defence reinstated military service only eight months after getting rid of it. The new system includes combat training for three months and then service as duty officers in support of the professional army for the remaining nine months.
Lithuania reinstated conscription in 2016 after it was scrapped in 2008. It applies to men between the ages of 18 and 26, who must perform military duties for one year "except for university students and single fathers".
In 2017, Sweden voted to reintroduce conscription. It had been abolished in 2010, after 100 years.
This is not an exhaustive list and there are other countries around the world which also have military service and conscription. They include:
Turkey - Conscription for all men over the age of 20. They must serve between six and 15 months.
Greece - Compulsory military service (nine months) for men from the age of 19.
Cyprus - From the age of 18, all male citizens including men of Cypriot descent on the male side must complete military service.
Iran - Military service is compulsory for men for 24 months over the age of 18.
Cuba - Men aged between 17 and 28 must serve for two years.