100 Women: Women duped in sexist videos by Brazilians fans targeted by Russian extremists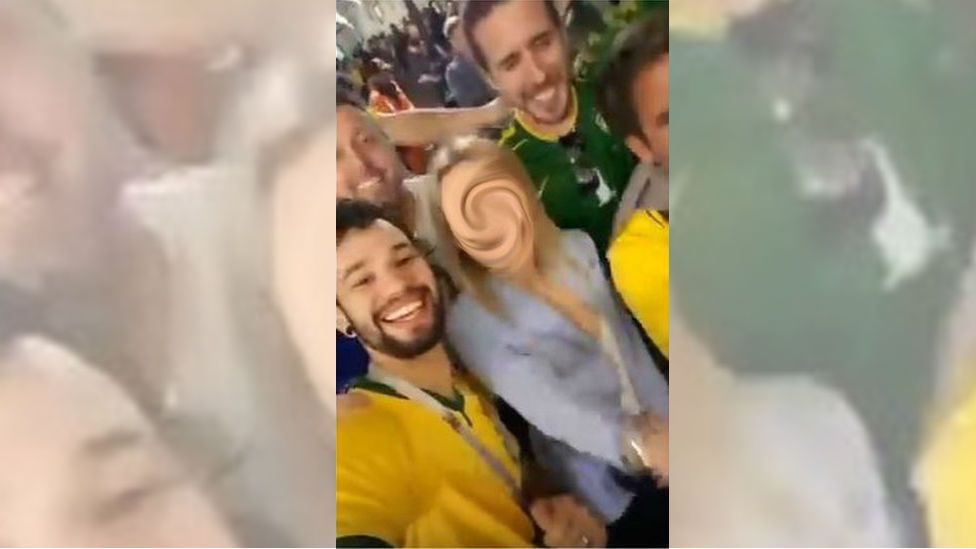 It started as a tasteless joke. Brazilian fans at the World Cup, tricked Russian women into saying obscene words they didn't understand and posted videos of them on social media.
Now these women are being abused a second time; this time by Russian far-right groups.
The social media attacks widen to include Russian women who have been photographed with foreign football fans, along with those in the Brazilian videos.
Those who have been trolled report humiliating comments, nasty insults, and even threats of physical violence and gruesome deaths.
The attacks originally appeared on the women's personal accounts on Instagram and VK or VKontakte - Russian's answer to Facebook, used by more than 30 million people daily.
Now they have been circulated on the pages used by extremist groups all over the country.
A group of Brazilians, following their team around Russia, had an idea for a joke; to dupe a Russian woman they'd met into saying one of the most obscene sentences in the Portuguese language.
It roughly translates as "pink vagina", and the woman, who speaks no Portuguese, didn't understand what she was saying.
She was identified by other members of VK - and she soon became a hate-target for Russian ultranationalist groups.
Some of these groups even called themselves "The Pink Vagina Group" after the Brazilian profanity - using their pages to troll women.
In no time, thousands of people - mostly men - were hurling insults at her and other women who, like herself, had appeared in videos and photos with foreigners.
According to these groups, the women are to blame for their own abuse, as such behaviour "offends" their male compatriots.
The woman erased her VK profile and tried to vanish from social networks, but by then her name, age, place of birth and address had already been made public.
A wide collection of personal photos, harvested from her page before it disappeared, were also circulated.
Maria - not her real name - is another young woman who has been abused online.
She still cannot understand how much her life has changed in only a few days.
"We wanted to film a video for our friend's birthday," she says. "I saw a young man in Brazilian uniform and I had my photo taken with him."
The photo captures the moment when they were saying good bye.
"It was friendly," says Maria, who is from Saint Petersburg. "We kissed each other on the corners of our lips."
She didn't see anything wrong with the picture, so she posted it on her VK page.
But some people thought the photo looked like they were kissing on the lips - and a backlash followed, led by far-right online users who accused her of getting too friendly with foreigners.
"'I'll cut out your uterus' they wrote to me. They even attached two pictures of a weapon that looked like a dagger," says Maria.
The abusive messages poured in all night long and she became scared.
"I never thought it would come to this. Of course I removed my post," she says. "Perhaps someone saw it as rude, but I did not find anything indecent in my photo."
Maria found the experience so traumatic, she's considering seeing a psychologist to help her get over the experience.
"I learnt the hard way, what kind of backlash Russian girls get if someone feels they behave inappropriately with foreigners," she says.
"I've been so stressed, I can't sleep. I'm constantly anxious if I get a new message, it will be from this group. Overall, it's terrible."
Tamara Pletneva, a senior MP at the Russian parliament or Duma, issued a stern warning to her fellow countrywomen.
"I am not a nationalist..." she started, but went on to say that Russians should "give birth to our own children".
According to Ms Pletneva, single motherhood became a well-known "phenomenon" after Moscow's 1980 Olympics and there was no need for a repeat.
A recurring insult being used is "Natashas" - a derogatory term used to describe girls and young women who end up being sold as sex slaves after having been lured by the promises of legitimate employment.
But the disrespectful treatment of women isn't contained online - some traditional media outlets have also joined in.
The daily Moskovsky Komsomolets published an article with the headline "The time of whores: Russians in the World Cup disgrace themselves and the country".
On TV, the topic was discussed on Channel One's programme Time Will Show, where potentially gullible women should be reminded "these men are just here for a holiday".
But there have been voices - mostly from journalists and bloggers - speaking out against the persecution of Russian women on social media.
"Russian women can have sex with absolutely anyone they wish," wrote the editor in chief of Sports.ru, Yuri Dud.
The social platform VKontakte also demanded the removal of some posts that included photos of women, offensive comments and calls for violence.
BBC 100 Women names 100 influential and inspirational women around the world every year. We create documentaries, features and interviews about their lives, giving more space for stories that put women at the centre.