The women choosing to love their natural grey hair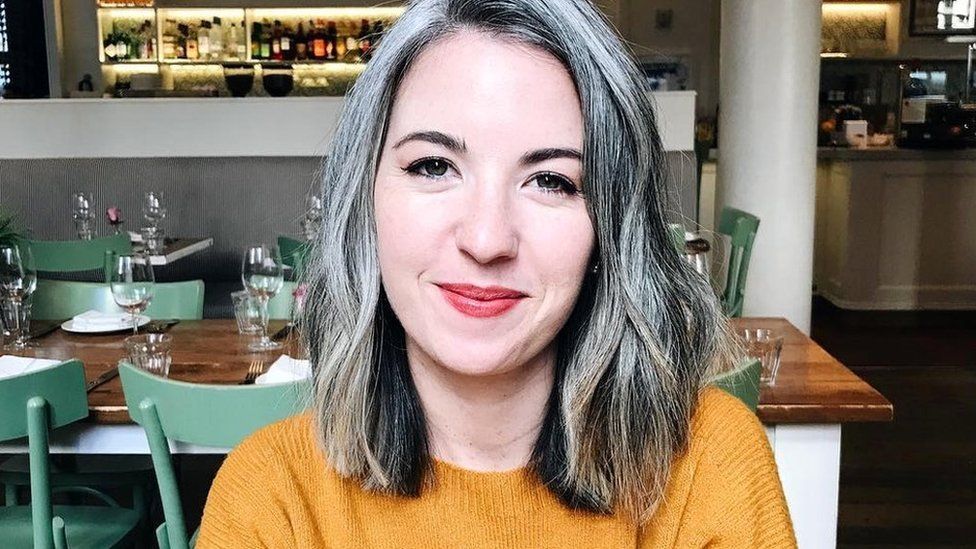 Kate Dinota was only seven when her mother found her first grey hair.
By the time she was 14, she unquestioningly took to dyeing it. At 28, after working out she had spent about 1,000 hours and $18,000 (£14,000) in the salon chair covering up her greys, she decided to embrace them instead.
She is one of the many women featured on Instagram account Grombre - a community for women of all ages who are ditching dyes.
Martha Truslow Smith, 26, founded it after finding a lack of support and advice elsewhere.
The account lets women submit and share their journeys. It now has 10,000 followers and comments flood the images with positivity and support.
"It's everyday women being like: 'I feel pressure to not age, and alter myself, but I'm not going to walk that path. I'm going to see what my true self looks like'," she says.
Kate, who lives in New York, experienced a lot of scepticism over her decision to stop colouring.
"People were like, 'Are you sure? What about your career? You're so young?' Like that seems silly."
She believes there needs to be better representation of grey-haired women of all ages.
"When companies embrace women with grey hair they're usually over 60. It's only celebrated when the time is deemed right."
It seems ironic that while societal pressure on looking young endures, dyed grey hair has become a huge fashion trend.
Well-known figures such as Lady Gaga and Ariana Grande have helped silver locks soar in popularity.
Renowned hair colourist Rita Hazan has worked with celebrities such as Beyoncé and Mariah Carey.
Salons like hers have seen a surge in requests for silver and platinum colours in recent years, as well as other soft pastel shades like pink.
She urges against at-home dyeing to recreate the trend, reminding people that celebrities have a "whole production" of professionals, wigs and extensions behind the amazing hair that people see on social media or on the red carpet.
"People are torturing their hair to get the look - a lot of it is fantasy that people are looking at," she says.
It was the silver trend that convinced 30-year-old Stephanie Tunchez from Texas to stop dying her natural hair two-and-a-half years ago.
"I thought to myself: 'Wow! They're paying hundreds of dollars in the salon to achieve this look and I'm over here trying to cover it up."
Her transformation inspired her mum to do the same: "Now we are hair twins and I love it."
Rachael Gibson, known as the Hair Historian on social media, points out that while celebrity hair trends are nothing new, our recent "obsession" with looking young is.
Historically, and still in some places, grey hair was viewed as a symbol of wisdom and knowledge. Throughout the 18th century powdering elaborate wigs and your hair off-white became all the rage for the European elite.
Rudimental hair colorants have been used since ancient Egyptian and Roman cultures (pickled leeches or urine hair baths, anyone?) but only emerged in their modern form around the turn of the 20th Century.
"It typically wasn't seen as something that a 'respectable' woman would do. It conjured up an idea of vanity and indulgence in beauty," Rachael says.
Just as the image of the "perfect housewife" was proliferated in 1950s pop culture, brands such as L'Oréal and Clairol began marketing safe and discreet at-home colours.
Commercial dyes were marketed squarely at women who wanted to remain fertile and youthful in their appearance. Within a couple of decades male-oriented brands would do the same.
"Baby boomer generations have chosen not to grow old in the same way that their parents did," Rachael says.
"These days being in your 50s and 60s doesn't mean being an old person in the same way it used to."
Most of what we consider 'premature' greying actually isn't - a testament to how well women have hidden the reality in recent decades.
Prof Desmond Tobin, a hair and skin pigmentation specialist at the University of Bradford in the UK, explains that it is perfectly normal for people from European backgrounds to start greying in their early 20s.
Research has shown that our hair follicle production can be influenced by factors such as hormones and stress, but some people have a genetic predisposition to lose pigment or go bald more than others.
While men with shorter hair can transition to silver with the salt-and-pepper grace of George Clooney, the process can mean years of stress for some women.
Martha says she started the Grombre Instagram account to help herself and others on those "difficult days" of doubting the process.
Shelli Gillis, 46, believes that wider changes in the media have the potential to enable women to feel more confident in going grey.
"I think we'll see more women embracing it, as they see role models or see inspiration on how beautiful it can be on the other side," she says.
"That's what I say to people: I know the transition can be a rough road, but the destination seems really worth it to me."