Close shave with Florida police wins homeless man job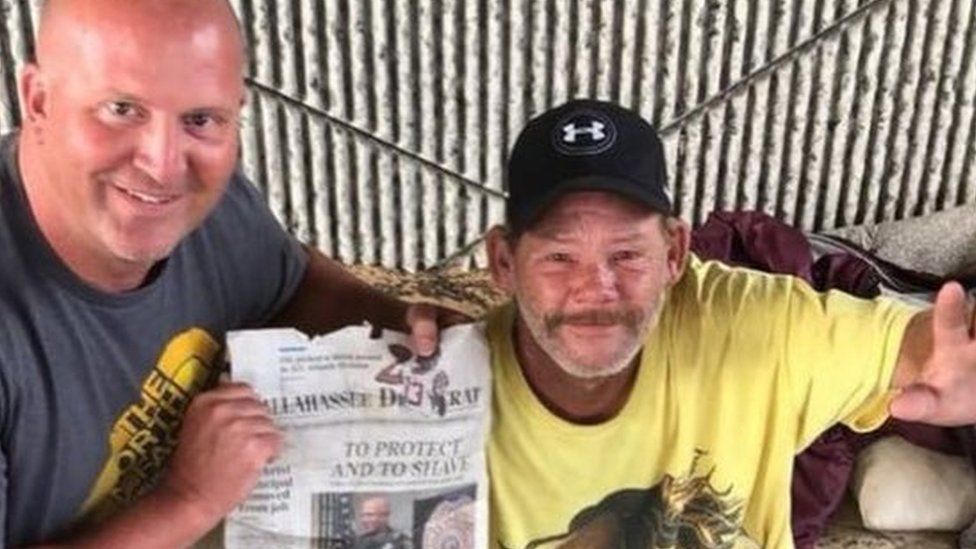 A police officer in the US has been praised for helping a homeless man shave his beard for a job interview.
Officer Tony Carlson, from the Tallahassee Police Department, in Florida, was caught on camera shaving the man's face outside a petrol station.
In a Facebook post Officer Carlson said the man, who he named as Phil, had told him he had been promised a job at the McDonald's next door if he turned up for work clean shaven.
"He asked me if I knew anything about fixing a razor because his was broken and if I could look at it," Officer Carlson said in the video, which was posted on Tuesday.
"It was missing a screw so I tightened up the other one to the point where it actually worked."
Officer Carlson said Phil had then started to try to shave but had been struggling without a mirror, so he had stepped in to help.
"He was excited that there was a chance he was going to get this job if he did this simple thing," he added.
The heart-warming moment was captured on video by a passerby who gave it to the Tallahassee Police Department, which posted it on its Facebook page on Sunday evening.
The post has been shared more than 1,000 times on Facebook, with many of the comments praising Officer Carlson's act of kindness.
"What a wonderful man and such an example for all of us about how 'small' acts of kindness can change someone's life," read one Facebook comment.
"He told me he had talked to the manager at McDonald's and he was set to get a job - but he still needed to get his ID and social security card," posted Officer Carlson.
"I then told Phil I had good news about that and told him I had been contacted by Senator Marco Rubio's office here in town."
The senator's staff had said they had seen the story and emailed Officer Carlson the forms Phil needed to fill out to get his paperwork sorted.
"Phil was super-excited and assured me he would be ready for Thursday," he said.
Despite the praise Officer Carlson has received, he is being humble about the whole incident.
"I didn't do anything spectacular," he said. "It happens all the time."
"It just so happened that this time somebody caught it on film.
"Officers all over the place in other cities are always doing things like this that don't get the attention."
If you would like to share a similar story or have seen an act of kindness like this email: haveyoursay@bbc.co.uk
By Rozina Sini, UGC and social news team